How To Save Money On Maternity Clothes Since That Bump Won't Last Forever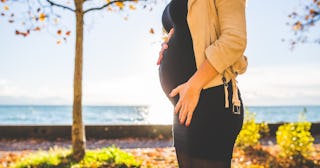 Negative Space/Pexels
There's so much planning and buying once you find out you're pregnant and going to be a mommy. From diaper and linen stockpiles to nursery decor and itty-bitty baby clothes, your money quickly vanishes right before your eyes. One thing that doesn't vanish? Your belly. As a matter of fact, it's getting bigger. And bigger.
With so many baby needs, it can be hard to reconcile spending money on dressing the bump, when you know the bump will be gone in a few short months. You obviously can't go to work in that stretchy grey sports bra and the one maxi skirt that still fits. But, how do you buy maternity clothes on a budget? Luckily, saving money on maternity clothes is super simple if you use a few sneaky tips.
1. Work With What You've Got
If you love those mail-order swing dresses or live in leggings, you're already on your way to a decent maternity wardrobe. Yes, the way those clothes fit will most certainly change as your body changes. However, most will still fit. Those oversized sweaters might fit a little more snug, but with the right bottoms and accessories, they'll still work all the way through your fourth trimester. As the bump pulls up the front of your shirts, consider repurposing older clothes to add a color block at the bottom.
You could also buy some of that extra wide, wispy lace to sew onto the hem of shorter, less dressy shirts. The lace won't just add length, but it'll also extend the variety of places you can wear the shirt. And, of course, you can invest in a belly cover that looks like the bottom half of a longer tank top. These are great as a layering tool for too-short shirts.
Also, never underestimate your ability to dress up plain, dark-colored yoga pants. As long as they aren't wearing thin and you pair them with a pretty top, most people won't even know there's a folded waistband under your shirt. If they do, they're certainly not going to cross a pregnant lady by calling her out.
2. Save Money by Borrowing or Buying From Friends
Got a gal pal who just gave birth? If you can (tactfully) mention your need for some slightly roomier new clothes, they'll probably just offer up their maternity clothes or hand over items that are too big now. If they give them to you, though, make sure to promise to pay for a round of margaritas once you're back off the wagon. It's only fair.
3. Check Facebook Groups and Marketplace
Those mom groups on Facebook are terrifying. Whatever your political leanings, religious beliefs, or social constructs, you're likely to find women who steer the opposite direction and who often leave you seething. That said: Most mamas know maternity clothes are a necessary evil. If you don't feel comfortable flat out asking for help, ask for tips. "Guys, it's impossible to find reasonably priced maternity pants in my size. Any tips?" You'd be surprised how many offer up their maternity clothes. And while you're on Facebook, check out Marketplace. Since new maternity wear can be so expensive, many moms will try to recoup some of their money by selling the pieces. Moreover, women who have used the same pieces for multiple pregnancies but are done having kids will sometimes sell everything in a "lot" in certain sizes.
4. Shop For Used Clothes On Apps
If you're desperate for some nice maternity clothes, despite knowing they're not in your budget, it might be time to hit the App Store. Apps like Poshmark and Mercari have whole maternity sections where you can score second-hand clothes that are often higher-end brands and often in "like new" condition. What more could a thrifty, soon-to-be-mama fashionista ask for?
5. Go Thrifting
Sometimes you just need to get out and about and browse the rack. Most thrift or consignment stores should have a maternity section. Though, it could be a very limited selection in certain areas of your town.
6. Hit All Clearance Sections
That $3 clearance maternity tank might seem like a crazy purchase in November. But if you layer it under the $10 clearance oversize cardigan from the early fall line, you'll be a little warmer. Add on the coat you bought two sizes too big, too, and you'll be fine for a little while longer. You can save the most money on maternity clothes by not actually wearing "maternity clothes.
7. Clothes Sharing Services
Companies like Rent The Runway, Infinitely Loft, and other major retailers like Bloomingdales all offer subscription rental services for all things fashion. That includes maternity fashion. For a monthly payment, you can rent a set number of items at a time, and if you learn how to game the system, you can rent thousands of dollars worth of clothes in any given month. This is great for every day but also special items like maternity winter coats, maternity gowns, or other items you will only use for a short period of time or just once.
But what if you fall in love with a summer dress so much you want to own it? Well Rent The Runway offers the option to buy your current rentals at a steep discount that rivals the prices of some fast fashion brands with questionable quality. That $120 designer maternity dress you like but don't want to drop a hefty price for, you can buy that for $25 with the RTR at-home rental purchase. Will you be spending the tail end of your third trimester and most of your fourth in winter months? Why not rent a maternity puffer coat and then return it come spring.
It's best to buy a number of maternity basics like leggings and tanks, but maternity office wear you will only use for four months and maybe never again? Rent, baby, rent.
6. Consider Your Fourth Trimester
It takes about 10 to 12 weeks for the uterus to contract to its pre-pregnancy size, so no matter what celebrity "snap back" picture you're served by gossip outlets, know that every woman's body heals differently. That also means that the first three months or so, your postpartum body will still be sporting a belly. If you give birth in the winter, you might not be able to bank on last year's winter coat to keep you warm this year, this means strategically buying or borrowing clothes that will last you through whatever season your fourth trimester happens to be in.
This article was originally published on