I Have Been Influenced, And Now I Want (Need?) The Bogg Bag
by Nikkya Hargrove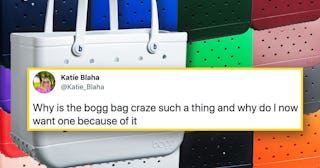 Bogg Bag and Katie Blaha/Twitter
When Crocs discontinued their flat ballerina shoes I was, admittedly, sad. I mourned for a moment or two and then I went bananas buying my kids Crocs just in case their faves were discontinued. I like the way they can easily be washed, because kids are forever stepping in gross stuff. And now, that same kind of durable, washable surface is available in a tote (it's not affiliated with the Crocs brand, but now you can envision what it feels like). It's called the Bogg Bag.
The mom groups can't stop raving about them. It's as if there are literally no other options for carrying our kids' wet towels, snacks and water bottles to the lake or pool. And, we all know that's not true, but many of us have been influenced (or peer pressured) and we are going all in. Because why not, right?
It was designed by a mom whose family loves the beach; she wanted a bag that could withstand the beatings that only the beach (and kids) can give to a handbag or a beach bag. For the creators of the Bogg Bag, it had to be one that could easily be cleaned or rinsed off and capable of handling the spills of kids, beach, or anything in between. The family patented and launched the company in 2011.
The bag is everything I've ever wanted in a bag — that is, after I had kids. Do you know all the shit I carry in my bag for them? Stuff that stains, that smells, that crumbles up and leaves God only knows what at the bottom of my mom bag. Recently, I found a bird feather in my bag (yes you read that right, a bird feather!). My kids drop things into my bag, as I am sure yours do too, as if they paid for it. Worst of all, they don't care if it's wet or dirty or gross, especially during the summertime. And this is why I wanted the Bogg Bag.
It comes in like 6,000 different colors — okay, more like thirty, but still. There are prints available too. I could buy a color for every day of the month and swap out my bag. Plus all of the choices bode well for my indecisiveness. They aren't cheap, but they are practical AF. Go ahead, take a look and drool like I did. Don't worry, you can wipe the drool off of the bag … they are waterproof too.
Original Bogg® Bag (Extra Large Tote 19x15x9.5)
The extra large tote is my favorite (although the small Bogg Bag is a great size too). I stuff a lot of shit (some good and some bad) into my bag; remember the bird feather? A few weeks ago, I found pebbles at the bottom of my bag from the beach, which were also mixed in with seashells. My daughter is quite the collector. This bag has holes in it that can help push out sand, stop the funk, and allows me to easily shake out the pebbles. And I can just spray the whole thing down! That's why moms are raving over this damn bag. We need more things in life that are this easy to clean.
Limited Edition Original Bogg® Bag *NEW*
And then there are the limited edition bags, like my fave, the pineapple one. When I see it, I dream of a cocktail with pineapple. Some folks associate the pineapple symbol with being a swinger though, so do what you will with that information, but that's not why it's my favorite, thank you very much.
For my birthday, I'm requesting a Bogg Bag gift card. This isn't even an ad. I'm just that excited about this bag. Bring on the pebbles, feathers, and sand — my future Bogg Bag can handle it.
This article was originally published on