Ina Garten Downing A Giant Cocktail Is A Quarantine Mood
by Cassandra Stone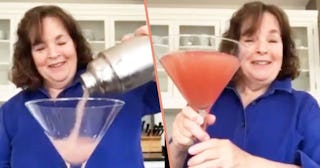 Ina Garten/Instagram
If you're looking for a few little lighthearted moments, check out Ina Garten's cosmo demonstration
If you're looking for the perfect drink to indulge in while we're all quarantined, you're in luck. Ina Garten has a delicious cosmopolitan recipe for you, complete with video. It's hard to say which is better: the absolutely enormous size of her cosmo or the fact that Ina, always as perfectly put together as her meals, has completely lost it like the rest of us.
Many people have been engaging in virtual happy hours with friends and family through FaceTime and apps like Zoom. And honestly, it looks like Ina is ready to join in the fun.
RELATED: 10 Best Bourbon Glasses That Truly Bring Out The Flavor In Your Drink
"You probably have all the ingredients right in your house," Garten begins, sloshing together the makings for enough alcoholic beverages for an entire wedding party.
"Two cups of vodka," Ina delightfully chirps. "Good vodka," she reminds us, very Ina-like. "Just pour it right in." Then she adds one cup (very, very generous cups, I might add) of Cointreau, cranberry juice cocktail, and freshly squeezed lime juice (it simply must be freshly squeezed).
"How easy is this?" she adds, grinning at all of us at home who are undoubtedly grinning right back at her. This is the lighthearted celebrity content we need right now.
This is when things take a decidedly un-Ina-like turn: "I like to make a lot of Cosmos," she says. "You never know who's going to stop by — wait a minute, nobody's stopping by!"
You can see the joy briefly fade from her lovely eyes as she realizes none of her Hamptons-based friends, florists, butchers, or farmer's market managers will be joining her for this Quarantine Cosmo. Nope, it's gonna be just her and Jeffrey.
People on social media were absolutely loving this version of Ina, because let's be honest — we all love her, even when she's telling us we can only use vanilla ground from the fresh swath of vanilla beans growing in our backyard and butter creamed from the milk of golden-hued Himalayan goats.
https://twitter.com/jetpack/status/1245363329532678144
Finally, Ina grabs a glass the size of a classroom globe and pours her concoction into it. "In these times, this is really important," she assures us. "So just pour it right in." She takes a very satisfied sip (to be fair, it looks absolutely divine) and signs off with some words of wisdom.
"Stay safe, have a very good time, and don't forget the cocktails."
This article was originally published on