Thinking Of Changing Your Instagram Name? Here's Some Info To Consider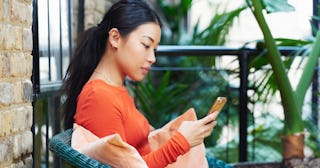 Tara Moore/Getty
Instagram names are much like any other handle on the internet — the sooner you sign on board, the better the chances of getting a unique username. While many people resort to adding numbers to their handle as a means to differentiate themselves, it doesn't always have to be that way. Instagram handles can be silly, funny puns, or straight-up professional. And whether all you do is share Gordon Ramsay memes all day or run a small business, you should love your handle. Something to keep in mind: Unlike a funny WiFi name only your neighbors see, a social media handle might stick with you for years and be seen by hundreds, if not thousands, of people.
When thinking about your Instagram usernames, there's a lot to consider. For one, is this going to be a professional work account? If so, you might want to steer clear of any gross-out titles. No matter how funny you think the number "69" is, it shouldn't be featured in an Instagram name that you plan on sharing with your boss or your company. Also, hate to break it to you, but any names or handles that include "hottie," "baby," or "sexy" will make you look like a 13-year-old who was just granted permission to use the internet. With that said, use our extensive roundup of names to inspire your very own moniker.
Classy Instagram Names
The best Instagram names for professional use include your full name. If that's taken, an initial usually works. Still, taken? Then try a shortening of your name. For example, "KarenBelz" is my own handle. But if it was unavailable, I'd try for "KBelz," KEBelz," or something with underscores, like "Karen_Belz". Something like "MsBelz" would also work well.
Own a small business or company? Then, the best Instagram handle will include that name. For example, if I owned an Etsy shop that sold knitted projects, I'd probably aim for something like "KarenKnits" or "TheKnittingCompany." Make sure not to take the name of an already established brand or make it too confusing for people to differentiate. If you own a business, that business should have its own unique brand behind it.
Not convinced? Here are some examples of Instagram names that will best represent you. These may already be taken, but they're meant to serve as an example.
@girlwithablog
@ashleywrites
@newyorkcityliving
@lifeintucson
@katiethevet
@teachersharon
@learningeveryday
@CindyTheGamer
@BestRealtorInFL
@ShaquilleOatmeal
@HangingWithMyGnomies
@FastAndTheCurious
@Averagestudent
@BadKarma
@GoogleWasMyIdea
@CuteAsDucks
@Casanova
@RealNameHidden
@HairyPoppins
@FedoraTheExplorer
@Oprah
@YellowSnowman
@JoeNotExotic
@Babushka
@ToastedBagelWithCreamCheese
@BaeconAndEggz
@FartinLutherKing
@CoolShirtBra
@KentuckyCriedFricken
@KimChi
@IDrinkChocolateMilk
@SaintBroseph
@ChinChillin
Funny Usernames For Instagram
Instagram names can also be funny. If you want to stay under the radar or just create an account for memes, then you'll want something that people remember. The first rule of being funny is that you can't be offensive. Even if you think a mean-spirited joke is funny now, you likely won't in five years. Nor will your growing fanbase.
Funny usernames for Instagram can be derived from things you love. Fan of Taco Bell? Then, make that statement in your username. Allergic to cats? Sure, that's something else that'll set you apart and make you more memorable. Here are some other ideas for funny usernames. Again, they may already be taken, but are meant to set you in the right thought process.
@MustLoveCats
@NerdyForYou
@GetOffMyLawn
@SadMillennial
@AlwaysTired
@ForgotToWaterPlants
@IsItFridayYet
@TheHighSchoolClown
@ForgotMyHomework
@WorstRoomie
@WhoStoleMyFood
@LaughAtMyJokes
@YouForgotToLaugh
@InstantRamenGirl
@AlwaysOnMyPhone
@GoogleWasMyIdea
@CuteAsDucks
@Casanova
@RealNameHidden
@HairyPoppins
@FedoraTheExplorer
@YellowSnowman
@JoeNotExotic
@UnfriendMe
@BabyDoodles
@FluffyCookie
@Buh-buh-bacon
@AshleySaidWhat
@LactoseTheIntolerant
@ManEatsPants
@TwentyFourHourPharmacy
@AppleBottomJeans
@GhostFaceGangsta
@BigFootIsReal
@SantasNumber1Elf
@TheHornOfTheUnicorn
@AbductedByAliens
@ActuallyNotch
Aesthetic Names For Instagram
Maybe you're a text person. As in, you love a beautiful username, and the imagery it projects. Some people want their Instagram name to summarize the beauty in the world. If you're someone like this, aesthetic names for Instagram may be especially pleasing.
Aesthetic user names may contain colorful portrayals of nature. Or maybe they'll simply calm you down. Here are a few examples to base your own Instagram name on.
@PeacefulRain
@DaisiesAndTulips
@FreshMorningDew
@MorningLight
@TheSunAfterTheStorm
@NatureAtPeace
@MorningZen
@BeautyAndLove
Spam Names For Instagram
Let's not deny it. Sometimes, you want a burner Instagram account just to post weird memes, or maybe to look at your crush's profile without fear of an accidental "like" on a picture from two years ago. It's okay — we've all been there. Spam names for Instagram are so much easier to think up. Just remember to remove any identifying information if you really want to be anonymous.
For a spam Instagram handle, it's important not to hog a name that someone would really want to use. That's just common courtesy. With spam accounts, the name doesn't matter as much as the purpose, so you'll want to keep it simple yet forgettable. Here are some examples of Spam Names for Instagram that you can model your choice after.
@ryan947596
@lovetoteach9887
@sharktankfan991102
@redrose10293
@gardener11223
@flowerchild74850
@anonymous9348
@hereforthegifs001
@lurker991
Fan Names for Instagram
Show where your heart lies and pick a fandom to align with by choosing a handle that makes it clear whether you're a Swiftie or a member of the BeyHive. Either way, have fun with it and crack all the inside jokes.
@IStanEminem
@SwiftieFever
@BTSoDynomite
@AllIWantForXMas
@WhoRunTheWorldBey
@JennyFromYourBlock
@BruuuuuuuuceSpringsteen
@AdeleMademoiselle
Meme Names for Instagram
We can all appreciate a good meme, especially one that's super specific to your generation, interests, views, or upbringing. The mark of a great meme is one that generates laughter, makes you feel seen, or inspires you to send to a buddy. So, if you're looking for some dank meme pages to follow, check out this list below.
@epicfunnypage
@memezar
@sarcasm_only
@hoodclips
@daquan
@funnymemes
@thefatjewish
@betches
@lmao
@insta.single
@societyfeelings
@couplesnote
This article was originally published on