Since The Pandemic, More People Are Focusing On 'Intentional' Dating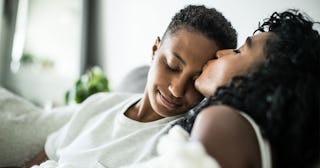 MoMo Productions/Getty
When I re-entered the dating world after my husband died and before the pandemic, one of my first dates warned me that dating in the age of apps meant catching your date swiping on new matches when you return from the restroom. He warned that it was an instant gratification culture and that it was a game of quantity over quality. (Yes, I panicked and no, I didn't go on a second date with him for other reasons.) Whatever dating was then, it certainly wasn't intentional dating.
Then came March 2020. COVID brought life as we knew it to a screeching halt. Amid the fear and uncertainty of the time, everything stopped—schools, businesses, social lives. Over the last eighteen months, it's all come roaring back (in some cases whimpering back, but that's a different topic.) Nearly nothing that's returned from the original shut down looks the way it once did. The pandemic changed everything — from the way we work to the way we travel, and even, as it turns out, to the way we date. Since the pandemic, more people are focusing on intentional dating.
A 2021 study by Match surveyed 5,000 single people and found that 58 percent of app daters have shifted to "intentional dating."
The survey found that 53 percent of app daters were prioritizing getting into a relationship more than before the pandemic, 53 percent were rethinking what qualities they looked for in a potential match, nearly 70 percent were being more honest with potential partners, and 44 percent were engaging in more meaningful dialogue with matches.
Research from Hinge Labs confirmed the study's findings. Hinge researchers found that "singles took time during the pandemic to reflect on their dating lives, leading them to slow down, really think about who they are looking for, put a stop to bad dating habits and become more intentional about dating."
What Is Intentional Dating?
The phrase "intentional dating" sounds all well and good. I'm a big proponent of being (or attempting to be) intentional in everything we do. But what exactly does it mean for dating in the twenty-first century, when a catalogue of potential matches is available at your fingertips?
Intentional dating means simply this—slowing down. It means taking a break from the casual swipe right or left culture and being more mindful about the process. It means thinking about what you truly want in a partner and reflecting on patterns and habits that may be keeping you from find that person.
In practice, it might mean ending the practice of matching with handfuls of people and setting up a few dates a week, and instead getting to know a potential date before meeting in person. A shift toward quality over quantity.
Why The Shift To Intentional Dating?
The shift to intentional dating makes sense when considering the way the pandemic changed our lives. In the earliest months, anyone outside of our pandemic bubble was to be approached with caution. Loneliness soared. We all had to re-evaluate what we wanted from our lives and from the people we allowed into our lives.
Ellen Lamont, a professor of sociology at the Appalachian State University and the author of the 2020 book The Mating Game: How Gender Still Shapes How We Date, confirmed this idea in an interview with TIME. She said, "People got lonely and had this period of time where they reassessed their priorities and what they really wanted from relationships."
Michael J. Rosenfeld, a sociology professor at Stanford University, told TIME that while it's true "pandemics have a way of taking some of the steam and fun out of the 'playing the field' strategy," the shift to intentional dating in a post-lockdown world is actually part of a larger shift that had already been happening. According to his research, in the past decade, more folks had been using dating apps to look for committed relationships, rather than hook ups.
The Benefit Of Dating With Intention
Intentional dating may or may not be for you. It's certainly not a one-size-fits-all approach to dating. (And that's okay!)
However, some experts see the shift toward intentional dating as a positive one. Susan Trombetti, matchmaker and CEO of Exclusive Matchmaking believes that slowing down might actually create more opportunity for folks looking to meet someone.
"People tended to swipe too much on dating apps, trying to find their 'perfect type,' which doesn't exist," she said. With the focus turned more intentional, it's easier to realize that perfect means something different.
Intentional dating doesn't necessarily have to mean dating for purposes of finding a long-term relationship. Some folks are simply being more intentional on how, when, and why they swipe. This could mean that they're not…for example…swiping while their date is in the bathroom. Or, it could mean that they're trying to stop overthinking and allowing themselves to "try to be more in the moment." Others, like myself, are focusing on being intentional while dating. That means not meeting milestones just because time has passed or rushing into situations because it's what's expected.
Whether you're single or not, looking to date or not, practicing intentional dating or not, the last year and a half has forced all of us to reassess our values. We've had to reflect on who matters most to us and why. And we've had to truly think about the kind of life we want to build for ourselves. Overall, it's a trend many of us can get behind.