Kelly Clarkson's Kids Grill Jason Momoa About 'Aquaman'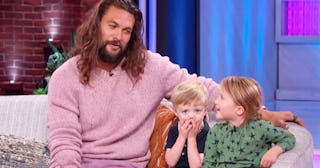 The Kelly Clarkson Show/Youtube
Kelly Clarkson's kids River and Remy "interviewing" Jason Momoa deserves an Emmy
It sounds impossible, but Jason Momoa may have just gotten outcameo'ed — and by a couple of kids, no less. The Aquaman star stopped by The Kelly Clarkson Show on Wednesday, where two of his biggest little fans came out to meet him: the host's daughter River, 5, and son Remy, 3 ½. And while there's no disputing Momoa's charm (we may love him even more now), Clarkson's progeny pretty much stole the show.
The too-cute-for-words interview kicked off when Clarkson informed Momoa that her little ones love him as Aquaman. When asked if she could bring them out to meet one of their favorite superheroes, Momoa gamely responded, "I would love to meet your kids!" Sidebar: BRB, swooning.
As River and Remy took the stage, the older — and, as would soon become evident, bolder — River took Momoa up on his offer for a hug. A more trepidatious Remy made a beeline for his mom, who sat him on the guest sofa in between Momo and big sister Riv. At first, the talkative little girl admitted she forgot her question. And, really, who can blame her? One surely needs a little time for their senses to bounce back after being hugged by Aquaman himself.
However, with a sweet assist by her mom, River proceeded to ask Momoa a few very important questions. Like, "Do you know The Little Mermaid?" Ever the pro, Momoa waited for the din of "aww" from the audience to die down before responding, "Ariel? Yes, Ariel's very sweet, she's very nice."
To make matters even more precious, Momoa hilariously then ran his hand through Remy's hair. He told the shy little guy, "She's also a redhead. So, I'm gonna teach you about redheads someday." As the audience (and Clarkson) laughed, he added, "They're very passionate. They're very passionate people."
With another gentle reminder from Clarkson, River gifted Momoa with a card she colored for him. Building off that special moment, River fired off her second question. This one proved even funnier than the first: "Where does Aquaman go to the bathroom?" Without missing a beat, Momoa threw his hands up in the air as a child might. He exclaimed, "Everywhere!" Clarkson comically pointed out the logic in Momoa's answer, saying, "That's because you're in the water all the time."
Before the interview ended, River gave her brother a tiny pep talk. "Hey, you like Aquaman, you watch it! Come on," she said, encouraging him to ask Momoa a question. When Remy remained buttoned-up, Momoa gave him a big hug and a high five as the conversation came to a close.
Of course, it doesn't come as a surprise that Momoa would be so chill around kids. In addition to being a supportive stepdad to wife Lisa Bonet's grown daughter Zoë Kravitz, Momoa is a killer "Papa Bear" to his and Bonet's two children together, daughter Lola Iolani, 12, and his lookalike son Nokoa-Wolf, 10.
And as he shared with Clarkson during his appearance, he understands having a sensitive child. Of watching Aquaman with his kids, he shared, "Wolfie's extremely emotional, so when I'd get hurt or beat up, he'd be crying. I'm like, 'Buddy, Papa's right here.'"
Say it with us: Awwww! You know, just when you think you couldn't possibly like Momoa or Clarkson any more than you already do, along comes an interview like this.
This article was originally published on