Jax & Brittany Are Having A Baby That Hopefully Takes After Brittany
by Christina Marfice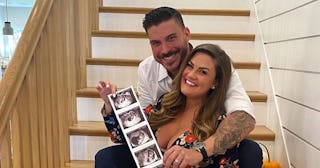 Instagram/Jax Taylor
Jax and Brittany make three Vanderpump couples that are expecting right now
Yet another Vanderpump Rules couple has a baby on the way. This time, it's Jax and Brittany, whose entire controversial relationship has been documented on the show. The pair got married in June of 2019 in Britt's native Kentucky, and just announced her pregnancy via coordinated Instagram posts.
https://www.instagram.com/p/CFar1eLHEle/
In the announcements, the pair is all smiles, lounging on some stairs and holding their sonogram printouts. Brittany already has an adorable baby bump, and we love that journey for her. Noticeably missing from Jax's whole look is an apology for his racism, transphobia, and general horrible treatment of others (including his now-wife) that should have gotten him fired from Vanderpump Rules alongside co-stars Stassi Schroeder and Kristen Doute. Here's hoping the baby takes after Britt, and by that we mean we hope it isn't veiny, angry, or openly racist without ever facing any consequences.
Jax and Brittany told People magazine that they're just a few days away from finding out the sex of their baby, and are planning a small gender reveal party for this weekend.
'I can't wait to start shopping and getting the nursery ready," Brittany said. "I am just so overjoyed and every day I fall more in love. Boy or girl, we are just so ecstatic!!"
We're so happy for Britt — genuinely, we want nothing but the best for her — but we're more than a little concerned about perpetual frat-boy Jax stepping into this fatherhood role. Who wants to bet that the "reveal" will involve taking shots until someone vomits pink or blue to give away the big surprise? That's pretty much how Jax spends his Sundays anyway.
The good news is that Jax will have a whole village to rely on — LaLa Kent and Stassi Schroeder are both also expecting babies with their partners. In fact, LaLa and Brittany have due dates just 8 days apart.
"I am so happy we are going through this together especially with my family so far away," Brittany said. "They have known since the day I took my pregnancy test and we all are just so excited for the play dates and our babies having built-in besties."
It's just too bad that Stassi is also terrible, but at least she got fired for it. Bravo, your move.