Jennifer Aniston Melts The Internet With Video Of Her New Rescue Pup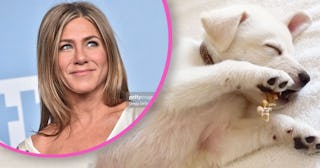 Gregg DeGuire/Getty and Jennifer Aniston/Instagram
Stop everything you're doing and "aww" over this video of Jennifer Aniston's adorable new puppy
There's been a big trend across the U.S. since the pandemic began: People who are now spending so much time at home have been adopting animals at such high rates, many shelters have had shortages — or even been emptied out completely. You love to see it, and especially when celebrities get in on the fun. Take, for example, Jennifer Aniston, who is currently melting the internet by sharing video of her new rescue puppy.
https://www.instagram.com/p/CGNQCJ3jX2h/
"I'd like to introduce to you the newest member of our family," Aniston wrote in the caption of her video, which shows the pup, Lord Chesterfield, taking a snooze with a toy still hanging out of his mouth. Aniston goes on in the caption to thank the Wagmor Pet Hotel and Spa, an organization that finds homes for rescue dogs, for helping her connect with her new little furry family member.
Other celebs who follow Aniston were quick to comment on the video, sharing just how much that adorable, sleepy puppy was capturing all our hearts. I mean, who can blame them? Is there a person in the world who can resist a sweet, napping puppy?
This adorable nugget of a puppy aside, we just love how much Aniston loves dogs. She has many other members of her furry family (some that she shares custody of with ex-husband Justin Theroux), and they make frequent appearances on her social media.
Aniston has always been open about her love for all animals. In a 2019 interview with People magazine, she admitted, "If I could have a llama, a pig, an alpaca, sheep, goats, I would."
She later told Dogs Monthly, "I have some great human friends, of course, but my dog friends are very special. OK, so they don't text me or buy me flowers, but they do so much more. They pick me up if I need it, they always greet me when I come home and they never complain about anything. I wish I was like that."
What's even better is that Aniston rescues all her animals. She and Theroux were both passionate about rescuing dogs, and they've worked with a number of organizations that save animal lives. From what we know, all of the actor's dogs she's ever had, including the new puppy, have been rescues.
https://www.instagram.com/p/B9SmF12hOS9/
One of the reasons we love seeing a big name celeb like Aniston highlighting dog rescues is how much support they need. According to the ASPCA, around 6.5 million animals enter shelters every year, and due to lack of space and homes, 1.5 million of them end up being euthanized. The only way to bring that number down is to help shelters. Some things you can do is donate resources or money so shelters can take care of more animals, volunteer as a foster for pets looking for their forever homes, and commit to only adopting animals from shelters, not from pet stores or breeders.
In other words, be like Jennifer Aniston. Not only does she have the cutest puppy on the internet right now, but she also saved a life. There is actually nothing better.