Jonathan Van Ness Makes History As The First Non-Female Model On Cosmo UK Cover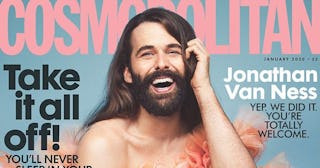 Cosmopolitan UK
Queer Eye's Jonathan Van Ness just became the first non-female in Cosmo UK's 35-year history to score a cover
We love every look Jonathan Van Ness rocks, but his latest headline-grabbing ensemble may be our favorite yet. In a pair of Nikes and a peach-hued Christian Siriano ruffled gown, the Queer Eye for the Straight Guy star just made history as the first non-female face to grace Cosmopolitan UK's cover in 35 years. And while the cover story hasn't yet been released, we can hardly handle the con-fi-donce (as Van Ness would say) we're seeing in the cover image alone.
Naturally, Cosmo couldn't resist teasing readers about what's to come once the full interview with Van Ness drops. "Yep, we did it," the cover's intriguing tag line reads. "You're totally welcome." And I, for one, would like to go ahead and confirm my gratitude to the mag for the glamour served on this month's cover. Van Ness seems understandably stoked, too. He shared the cover on Instagram, captioning it, "My body is ready. 1st non-female cover star of Cosmopolitan UK in 35 years."
Until the story drops, there are fortunately a few more details to go on. According to Cosmo UK's executive editor Amy Grier, she and Van Ness discussed "Brexit, Bake Off, Binaries, and Bernie Sanders." She also promisingly hinted that the author and hairstylist "did not disappoint in any way." As if he could, right?
It's been a banner year for Van Ness, who came out as non-binary in June (he uses "he" and "him" pronouns), and did we mention he is also the first non-female ambassador for Essie nail polish? During Pride Month, he announced the honor, saying, "For me, polish has always been a form of self-expression." In September, he opened up about his former addiction issues and HIV diagnosis. That same month, JVN won the internet when he graced the Creative Emmys red carpet in another Christian Siriano number — a black strapless mini dress with an exaggerated blue and green bow on the back.
Additionally, Van Ness has become an outspoken advocate for organizations like Planned Parenthood that provide the testing required to allow people living with HIV to begin treatment. He even participated in a PSA on Planned Parenthood's behalf encouraging people to take charge of their sexual health by getting tested.
So, here's a trend we hope catches on: magazines embracing a more inclusive approach to its cover stars. JVN definitely seems to be living his truth fully and boldly these days, which is always a good look. If this Cosmo UK cover is any indication of what 2020 is going to look like, honey, we're here for it.
This article was originally published on