Got A K-Pop Obsessed Teen? Kick Off Your K-Pop Education Today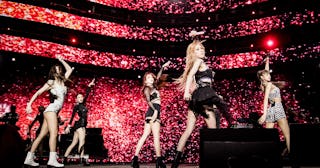 Rich Fury/Getty
Are you a K-pop novice but dying to know what all the fuss is about? Maybe you've stumbled upon some BTS memes and are genuinely confused. Is your teen really into Blackpink and you just want to find common ground? Then you've come to the right place. If you aren't already listening to this genre of music, you totally should be — and we can help get you started on your journey! K-pop, or Korean popular music, is part of the "Korean wave" — aka Hallyu. This term refers to the movement of Korean pop culture — music, movies, and television — that is gaining notoriety in Asia and worldwide.
We'll give a brief rundown of who the most established K-pop bands are, where they got their start, and how to start listening if you're interested. We're also going to share some notable K-pop songs so you can see for yourself how insanely talented these artists really are. Oh, and it doesn't hurt that each song is basically an earworm.
Let's get started.
What is K-pop?
K-pop is music originating in South Korea, with a sound influenced by many musical styles from all over the world — gospel, rock, jazz, hip hop, R&B, funk, country, electronic dance, classical, and more. Of course, most prominently, you'll hear sounds inspired by traditional Korean music.
K-pop is not just a style of music; it's full-on performance art. The artists' instrumentals, choreography, and wardrobe all speak to the level of work they put into their craft. And while K-pop may have Asian origins, it is now a global phenomenon.
How did K-pop get its start?
Most people agree that K-pop got its nascent start in 1992 when Seo Taiji and Boys performed their debut single, "Nan Arayo (I Know)," at a televised talent show. It was the first time pop music had been blended with South Korean culture. According to the scoring panel, the performance was a bust, but then the song went on to top South Korean music charts for an unprecedented 17 weeks — the longest No. 1 streak in the country's history for fifteen years after that.
When Seo Taiji and Boys disbanded in 1996, they paved K-pop's path to success and for other emerging Korean artists. Another K-pop group, a boy band aptly named H.O.T., made their grand entrance shortly after. By 1999, after being asked to perform at a benefit concert with Michael Jackson, H.O.T. was a worldwide sensation. From there, thanks to the rise of media and the internet, K-pop has steadily grown in popularity and is now a mainstay in pop culture all over the world.
K-pop Songs to Get You Started
"Boy With Luv" — BTS
BTS is one of the most popular K-pop groups in the world. You'll see them mentioned more than once on this list. Here's a song from 2019, "Boy With Luv." It's upbeat and catchy, and though you may not understand all the lyrics, you'll quickly find yourself humming along.
"How You Like That" — Blackpink
Blackpink is an all-girl ensemble, every bit as popular as BTS. Their song, "How You Like That," will have you up on your feet dancing in no time. The women that make up Blackpink are incredibly talented singers, dancers, and all-around performers.
"Call Me Baby" — Exo
With smooth beats and dancing reminiscent of boy bands popular in the '90s and early aughts, Exo's "Call Me Baby" feels like a callback to simpler times.
"Dynamite" — BTS
Another fan favorite by BTS, "Dynamite," is performed in English, with catchy lyrics you'll be humming all day long.
"Love Scenario" — iKon
Though performed in Korean, "Love Scenario" is captioned in English, making it easy to follow along. You don't need captions, though, because the video tells a beautiful story all on its own.
"Treasure" — MMM
If you're into detailed choreography, not only is this song a great workout tune, but the dancing is incredibly entertaining (Talk about precision!). This song may be about wooing a girl, but its rich base and blend of harmonic voices are enough to get anyone up and moving. Plus, if you're looking for some free fashion tips, the outfits in this music video are total style inspo.
K-pop Girl Groups
Want to know more? Here is our comprehensive — and growing — list of the most popular K-pop girl groups today. Dive into the sublime discography of each and dance your days away.
(G)I-dle
Iz*One
Itzy
Aespa
Blackpink
Bvndit
Cherry Bullet
Cignature
DreamNote
Everglow
Fanatics
Fromis 9
GWSN
Loona
Lunarsolar
Nature
Purple Kiss
Purplebeck
Redsquare
Rocket Punch
Secret Number
StayC
Tri.be
Uni.T
Weeekly
Woo!ah!
XUM
K-pop Boy Bands
Love BTS but want even more boy band jams? Here's a list to get you started.
BTS
Stray Kids
Wanna One
NCT
SEVENTEEN
Monsta X
WINNER
ASTRO
Got7
EXO
ATEEZ
TXT
SuperM
ONEUS
SHINee
iKON
Day6
X1
Pentagon
Super Junior
Wooseok x Kuanlin
ONEWE
NewKidd
NU'EST
CIX
ONF
D1CE
TREI
ENOi
ARGON
M.O.N.T
UNB
LIMITLESS
1THE9
OnlyOneOf
SIGNAL
CICI
GreatGuys
WE IN THE ZONE
BDC
MustB
The T-Bird
PLANTINUM
N.CUS
Bz-Boys
BUILD UP
TEEN TEEN
JUS2
AWEEK
VERIVERY
ASTIN
AB6IX
1TEAM
INFINITE
BtoB
B.O.Y
VANNER
NOIR
BtoB
Blue
NCT
Which K-pop group is the richest?
K-pop is beloved all over the world, and like international superstars, they're pretty rich. Here are a few K-pop celebs from South Korea who are making millions. Check out how much your favorite artist makes below!
Park Jin Young — $169 million
Kim Jaejoong — $80-100 million
PSY — $60 million
G-Dragon — $55 million
Rain — $50 million
This article was originally published on