Literally Hundreds Of K Words To Earn You Kudos In Scrabble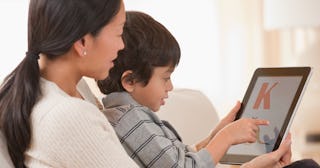 Ariel Skelley/Getty Images
Are you ready to put the kibosh on the competition? And by competition, we clearly mean the Scrabble board game competition. Of course, you are! But if you're going to have a keen showing with those tiny wooden tiles, you may need a little help — there's no shame in that. We've all experienced those moments staring down the board when your brain goes blank and the words simply elude you. If you ask us, K words (along with Z words) prove to be extra slippery. So, it makes sense to have a quick and easy list of 'em at the ready for your next round of this smart competitive pastime.
Killing the competition isn't the only thing these k words are good for, though. You can use them to help expand your child's vocabulary. If you're a writer, you can use them to build rich character backstories. And, hey, who doesn't love learning new big words that make you feel like a total brainiac when you break them out in casual conversation?
Consider this your ultimate compendium for words that start with K.
2-Letter Words That Start With K
ka, ki
3-Letter Words That Start With K
kab, kae, kaf, kas, kat, kay, kea, kef, keg, ken, kep, kex, key, khi, kid, kif, kin, kip, kir, kis, kit, koa, kob, koi, kop, kor, kos, kue, kye
4-Letter Words That Start With K
kaas, kabs, kadi, kaes, kafs, kagu, kaif, kail, kain, kaka, kaki, kale, kame, kami, kana, kane, kaon, kapa, kaph, kapu, karn, kart, kata, kats, kava, kayo, kays, kbar, keas, keck, keef, keek, keel, keen, keep, keet, kefs, kegs, keir, kelp, kelt, kemp, keno, kens, kent, kepi, keps, kept, kerb, kerf, kern, keta, keto, keys, khaf, khan, khat, khet, khis, kibe, kick, kids, kief, kier, kifs, kill, kiln, kilo, kilt, kina, kind, kine, king, kink, kino, kins, kips, kirk, kirn, kirs, kiss, kist, kite, kith, kits, kiva, kiwi, klik, knap, knar, knee, knew, knit, knob, knop, knot, know, knur, koan, koas, kobo, kobs, koel, kohl, kois, koji, kola, kolo, konk, kook, koph, kops, kora, kore, kors, koss, koto, krai, kray, kris, kudo, kudu, kues, kufi, kuna, kune, kuri, kvas, kyak, kyar, kyat, kyes, kyte
5-Letter Words That Start With K
kabab, kabar, kabob, kadis, kafir, kagus, kaiak, kaifs, kails, kains, kakas, kakis, kalam, kales, kalif, kalam, kames, kamik, kanas, kanes, kanji, kanzu, kaons, kapas, kaphs, kapok, kapow, kappa, kapus, kaput, karat, karma, karns, karoo, karri, karst, karts, kasha, katas, kauri, kaury, kavas, kayak, kayos, kazoo, kbars, kebab, kebar, kebob, kecks, kedge, keefs, keeks, keels, keens, keeps, keets, keeve, kefir, keirs, kelep, kelim, kelly, kelps, kelpy, kelts, kemps, kempt, kempy, kenaf, kench., kendo, kenos, kente, kepis, kerbs, kerfs, kerne, kerns, kerry, ketas, ketch, ketol, kevel, kevil, kexes, keyed, keyer, khadi, khafs, khaki, khans, khaph, khats, kheda, kheth, khets, khoum, kiack, kiang, kibbe, kibbi, kibei, kibes, kibla, kicks, kicky, kiddo, kiddy, kiefs, kiers, kilim, kills, kilns, kilos, kilts, kilty, kinas, kinds, kines, kings, kinin, kinks, kinky, kinos, kiosk, kippa, kirks, kirns, kissy, kists, kited, kiter, kites, kithe, kiths, kitty, kivas, kiwis, klick, klieg, kliks, klong, kloof, kluge, klutz, knack, knaps, knars, knaur, knave, knawe, knead, kneed, kneel, knees, knell, knelt, knife, knish, knits, knobs, knock, knoll, knops, knosp, knots, knout, known, knows, knurl, knurr, knurs, koala, koans, kobos, koels, kofta, kohls, koine, kojis, kokam, kokum, kolas, kolos, kombu, konks, kooks, kooky, kopek, kophs, kopje, koppa, korai, koras, korat, korma, korun, kotos, kotow, kraal, kraft, krais, krait, kraut, krays, kreep, krewe, krill, krona, krone, kroon, krubi, kubie, kudos, kudus, kudzu, kufis, kugel, kukri, kulak, kulfi, kumis, kumys, kurta, kurus, kusso, kvass, kvell, kyack, kyaks, kyars, kyats, kylin, kylix, kyrie, kytes, kythe
6-Letter Words That Start With K
kababs, kabaka, kabala, kabars, kabaya, kabiki, kabobs, kaboom, kabuki, kaffir, kafirs, kaftan, kahuna, kaiaks, kainit, kaiser, kaizen, kakapo, kalams, kalian, kalifs, kaliph, kalium, kalmia, kalong, kalpac, kalpak, kalpas, kamala, kameez, kamiks, kamsin, kanban, kanjis, kantar, kanzus, kaolin, kaonic, kapeek, kapoks, kapows, kappas, kaputt, karahi, karate, karats, karmas, karmic, karoos, kaross, karris, karroo, karsts, kasbah, kashas, kasher, katana, kation, kauris, kavass, kayaks, kayles, kayoed, kayoes, kazoos, kebabs, kebars, kebbie, keblah, kebobs, kecked, keckle, keddah, kedged, kedges, keeked, keeled, keened, keener, keenly, keeper, keeves, kefirs, kegged, kegger, kegler, keleps, kelims, keloid, kelped, kelpie, kelson, kelter, kelvin, kenafs, kendos, kenned, kennel, kentes, kepped, keppen, kerbed, kerfed, kermes, kermis, kerned, kernel, kernes, kerria, kersey, ketene, ketols, ketone, ketose, kettle, kevels, kevils, keyers, keying, keypad, keypal, keyset. keyway, khadis, khakis, khalif, khaphs, khazen, khedah, khedas, kheths, khoums, kiacks, kiangs, kiaugh, kibbeh, kibbes, kibbis, kibble, kibeis, kibitz, kiblah, kiblas, kibosh, kicked, kicker, kickup, kidded, kidder, kiddie, kiddos, kidlit, kidnap, kidney, kidvid, kikuyu, kilims, killed, killer, killie, kilned, kilted, kilter, kiltie, kimchi, kimono, kinara, kinase, kinder, kindle, kindly, kinema, kinged, kingly, kinins, kinked, kiosks, kippah, kippas, kipped, kippen, kipper, kirned, kirpan, kirsch, kirtle, kishka, kishke, kismat, kismet, kissed, kisser, kisses, kitbag, kiters, kithed, kithes, kiting, kitsch, kitted, kittel, kitten, kittle, klatch, klaxon, klepht, klepto, klicks, kliegs, klongs, kloofs, kludge, kludgy, kluged, kluges, klutzy, knacks, knarry, knaurs, knaves, knawel, knawes, kneads, kneels, knells, knifed, knifer, knifes, knight, knives, knobby, knocks, knolls, knolly, knosps, knotty, knouts, knower, knowns, knubby, knurls, knurly, knurrs, koalas, kobold, kochia, koftas, koines, kokams, kokums, kolhoz, kolkoz, kombus, konked, koodoo, kookie, kookum, kopeck, kopeks, kopjes, koppas, koppie, korats, kormas, koruna, koruny, kosher, kotows, koumis, koumys, kouroi, kouros, kousso, kowtow, kraals, krafts, kraits, kraken, krater, krauts, kreeps, krewes, krills, krises, kronen, kroner, kronor, kronur, krooni, kroons, krubis, krubut, kubasa, kubies, kuchen, kudlik, kudzus, kugels, kukris, kulaki, kulaks, kulfis, kultur, kumiss, kumkum, kummel, kurgan, kurtas, kurush, kussos, kuvasz, kvases, kvells, kvetch, kwacha, kwanza, kyacks, kybosh, kylins, kyries, kythed, kythes
7-Letter Words That Start With K
kabaddi, kabakas, kabalas, kabayas, kabbala, kabikis, kabocha, kabooms, kabukis, kachina, kaddish, kaffirs, kaftans, kahunas, kainite, kainits, kaisers, kaizens, kajeput, kakapos, kakivak, kalends, kalians, kalimba, kaliphs, kaliums, kalmias, kalongs, kalpacs, kalpaks, kamalas, kamotik, kamotiq, kampong, kamseen, kamsins, kanbans, kantars, kantele, kaoline, kaolins, kapeyka, karahis, karakul, karaoke, karates, karroos, karstic. karting, kasbahs, kashers, kashmir, kashrut, katanas, katcina, kathode, kathump, kations, katsina, katsura, katydid, kauries, kayaked, kayaker, kayoing, kebbies, kebbock, kebbuck, keblahs, kecking, keckled, keckles, keddahs, kedging, keeking, keelage, keeling, keelson, keeners, keenest, keening, keepers, keeping, keester, kegeler, keggers, kegging, keglers, kegling, keister, keitloa, kellies, keloids, kelpies, kelping, kelsons, kelters, kelvins, kempier, kenches, kennels, kenning, kenosis, kenotic, kepping, keramic, keratin, kerbing, kerchoo, kerfing, kermess, kermode, kernels, kerning, kernite, kerogen, kerrias, kerries, kerseys, kerygma, kestrel, ketaine, ketches, ketchup, ketenes, ketones, ketonic, ketoses, ketosis, ketotic, kettles, keycard, keyhole, keyless, keynote, keypads, keypals, keysets, keyster, keyways, keyword, khaddar, khalifa, khalifs, khamsin, khanate, khazens, khedahs, khedive, khirkah, kiaughs, kibbehs, kibbitz, kibbled, kibbles, kibbutz, kibitka, kiblahs, kickbox, kickers, kickier, kicking, kickoff, kickups, kidders, kiddies, kidding, kiddish, kiddoes, kiddush, kidlike, kidlits, kidnaps, kidneys, kidskin, kidvids, kiester, kikuyus, killdee, killers, killick, killies, killing, killjoy, killock, kilning, kilobar, kilobit, kilorad, kiloton, kilters, kilties, kilting, kimchee, kimchis, kimonos, kinaras, kinases, kindest, kindled, kindler, kindles, kindred, kinemas, kineses, kinesic, kinesis, kinetic, kinetin, kinfolk, kingcup, kingdom, kinging, kinglet, kingpin, kinkier, kinkily, kinking, kinless, kinship, kinsman, kinsmen, kippahs, kippers, kipping, kipskin, kirkman, kirkmen, kirmess, kirning, kirpans, kirtled, kirtles, kishkas, kishkes, kismats, kismets, kissers, kissier, kissing, kistful, kitbags, kitchen, kithara, kithing, kitings, kitling, kitschy, kittens, kitties, kitting, kittled, kittler, kittles, klatsch, klavern, klaxons, kleagle, klephts, kleptos, klezmer, klister, kludged, kludges, kludgey, kluging, klutzes, knacked, knacker, knaidel, knapped, knapper, knarred, knavery, knavish, knawels, kneaded, kneader, kneecap, kneeing, kneeled, kneeler, kneepad, kneepan, kneidel, knelled, knesset, knifers, knifing, knights, knishes, knitted, knitter, knobbed, knobbly, knocked, knocker, knolled, knoller, knopped, knotted, knotter, knouted, knowers, knowing, knuckle, knuckly, knurled, kobolds, kochias, kokanee, kolacky, kolbasi, kolhozy, kolkhos, kolkhoz, kolkozy, komatik, kongoni, konking, koodoos, kookier, kookily, kookums, kopecks, kopiyka, kopiyky, kopiyok, koppies, korunas, koshers, kotowed, kotower, koumiss, koumyss, kouprey, koussos, kowtows, kraaled, krakens, kraters, kremlin. kreuzer, krimmer, krubuts, kruller, krypton, kubasas, kuchens, kudliks, kulturs, kumises, kumkums, kummels, kumquat, kumyses, kunzite, kurbash, kurgans, kvasses, kvelled, kvetchy, kwachas, kwanzas, kyanise, kyanite, kyanize, kylikes, kylixes, kything
8-Letter Words That Start With K
kababbed, kabaddis, kabalism, kabalist, kaballah, kabardas, kabbalas, kabeljou, kablooey, kablooie, kabloona, kabobbed, kaboodle, kabouter, kabulese, kachahri, kacheris, kachinas, kadakias, kaddaffi, kaddhafi, kadhaffi, kaehlers, kaffiyah, kaffiyeh, kafirism, kafkaian, kafkaism, kagoules, kahanism, kahanist, kahawais, kaiaking, kailyard, kaimakam, kaingang, kainites, kaintuck, kaiserin, kaitiaki, kajawahs, kajeputs, kajishin, kakariki, kakemono, kakiemon, kakodyls, kalahari, kalamata, kalamdan, kalendar, kalenjin, kalevala, kalewala, kalewife, kaleyard, kalifate, kalimbas, kalinite, kalishes, kallidin, kallinus, kalmucks, kalmycks, kalmykia kalotype, kalpises, kalumpit, kalymnos, kalyptra, kamaaina, kamaboko, kamacite, kamadeva, kamakshi, kamasins, kambhoja, kambojas, kambujas, kameeses, kameezes, kamerads, kamichis, kamikaze, kamloops, kamokamo, kampongs, kamraths, kamseens, kanagawa, kanarese, kanazawa, kandahar, kanfanar, kangaroo, kangeroo, kaNgwane, kanjobal, kankakee, kanteans, kantelas, kanteles, kantians, kantikoy, kantists, kantners, kaoliang, kaolines, kaolinic, kapadias, kapplers, karabakh, karafuto, karaisms, karaites, karaitic, karakias, karakuls
10-Letter Words That Start With K
kabalarian, kabaragoya, kabbalists, kachruvian, kadaitchas, kaffirboom, kagulumira, kahikateas, kairomones, kabalistic, kabbalisms, kabeljouws, kapurthala, karabiners, karagiozis, karakalpak, karakelong, karamojong, karangaing, karateists, kardecists, karimnagar, karloffian, karmathian, karmatians, karmically, karpinskis, karstified, karstifies, kartchners, kartvelian, karuhiruhi, karwowskis, karyogamic, karyograms, karyologic, karyolymph, karyolyses, karyolysis, karyolytic, karyoplasm, karyosomes, karyotyped, karyotypes, karyotypic, kashubians, kasimovian, kettledrum, kettlefuls, keweenawan, keybinding, keyboarded, keyboarder, keybuttons, keyloggers, keynesians, keypunched, keypuncher, keypunches, keystoning, keystroked, keystrokes, khabarovsk, khaghkhagh, khakassiya, khalifates, khanbaligh, khanbalikh, khansamahs, kharijites, khassidism, khayyamian, khazarians, khedivates, khediviate, khevsureti, khidmutgar, khitmutgar, kibbitzing, kibbutznik, kibologist, kickabouts, kickaround, kickboards, kickboxers, kickboxing, kicksorter, kickstands, kickstarts, kiddiewink, kiddywinks, Kidlington, kidnapings, kidnappees, kidnappers, kidnapping, kidneylike, kidologies, kidologist, kiersteads, kieselguhr, kieselgurs, kieserites, kiesslings, kikuyuland, kilbournes, kilcreases, kilderkins, killebrews, killingers, killstreak, killswitch, kilmarnock, kilmartins, kilocuries, kilocycles, kilogramme, kilojoules, kiloliters, kilolitres, kilometers, kilometres, kilometric, kiloparsec, kilopascal, kimatuumbi, kimberlins, kimberlite, kimbroughs, kimmerians, kincaidian, kincannons, kincardine, kincheloes, kindlessly, kindliness, kindnesses, kinematics, kinescoped, kinescopes, kinesipath, kineticism, kineticist, kinetosome, kingcrafts, kingfisher, kingfishes, kingitanga, kinglihood, kingliness, kingmakers, kingsburys, kingslands, kingsleyan kingsnakes, kinkaiders, kinnikinic, kinnockian, kinshasans
K Words to Describe Someone
knockout, kindly, keen, knowledgeable, kingly, kittenish, kinetic, kitschy, knavish, kissable
This article was originally published on