If You're Divorced Or Divorcing, You Have To Listen To Kacey Musgraves' Song 'Star Crossed'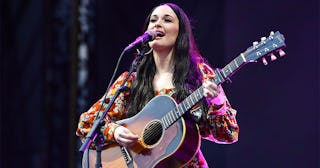 Erika Goldring/FilmMagic/Getty
After fifteen years of marriage (and eighteen years of being together), my ex-husband and I decided to go our separate ways. Our relationship was really good for a long time. We had three beautiful kids together and there wasn't a lot of chaos or drama. We hardly fought throughout our marriage. So, when that started to change and we became increasingly annoyed at one another and could feel the huge wedge between us, we decided to call it quits before things took a sharper turn.
That's not to say we made a hard and fast decision overnight — it took us about six years of trying to fall back in love and get some kind of spark back — but we did want to do it while we still had something left. That something was friendship, respect, and compassion.
This has helped us tremendously in our co-parenting journey, and we both realize how lucky we are to have this kind of relationship with each other.
But I also have to say, it can make it hard to let go. It's so much easier to walk away from someone and never look back when they have done something unforgivable or they are to blame for most of the problems in your relationship.
That wasn't the case with us though. Of course we both made our share of mistakes, but what really happened to us was, we grew apart; we fell out of love while still loving each other, and we didn't have a huge driving force that came in between us. We just didn't feel the need to be together anymore because sometimes, that's the way love ends. There doesn't have to be a grand exit or a burning of each other's things or blocking each other after a screaming match.
When I heard Kacey Musgraves' song, "Star Crossed" I felt like she'd written it for me; for us. Obviously she didn't write it for me, she wrote it for herself, but there's nothing that makes us fall in love with a song (or a whole album) like when it feels like the artist is singing the words to you alone.
The chorus of "Star Crossed" is what really got me:
What have we done?
Did we fly too high just to get burned by the sun?
No one's to blame
'Cause we called all the angels to save us
Called them by name
But I guess they got lost
Star-crossed
Musgraves told Elle the song is about "two people who love each other so much, but they cannot make it work in the physical realm to be together, because it's just not written in the stars for them."
I think the idea is foreign to a lot of people — that you end a relationship because it's just doesn't feel right, or you feel like there must be something else out there, or because you feel your time together is up.
We are taught to stick it out, to sacrifice our mental health for another person, to stay until your love turns to hate just to make it easier to leave.
But as Musgraves sings in her song, "No one's to blame."
The entire album, which has fifteen songs and is said to be about her journey through her divorce from ​​ex-husband, Ruston Kelly, is so damn good.
Whether you are going through a heartbreak, divorce, or having a perfect life at the moment, you will feel so many things listening to her voice during each song. It's compelling, raw, and so obvious it's coming from her heart.
She performed "Star Crossed" during the VMAs this year and it was stellar — I was shook. If you didn't see it, you must stop everything you are doing now and watch. Believe me, it's one of those songs that you will think about for a long time.
This article was originally published on