Kanye West Just Released A Campaign Video Because 2020 Won't Stop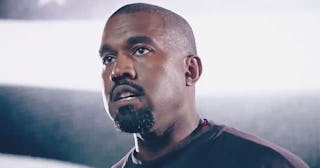 kanyewest/Twitter
Kanye West just dropped a surprise campaign ad video urging people to write-him in for POTUS
Well, it looks as though 2020 is going to keep on 2020'ing. On Monday, mere weeks shy of the presidential election, Kanye West revealed his very first campaign ad via social media. In the roughly one-minute-video, the rapper can be seen standing at a podium speaking with a waving monochromatic American flag superimposed in the background.
As West failed to make the ballot in most states after announcing his bid for the presidency, his campaign video leaned on his only hope left for election: a write-in bid.
Sharing the video on social media, West made his primary platform clear. "We stepping out on faith," he wrote, alluding to the campaign ad's call for a nationwide embrace of religion (specifically Christianity).
"America. What is America's destiny? What is best for our nation, our people? What is just? True justice? We have to think about all these things, together as a people, to contemplate our future. To live up to our dream, we must have vision," West says. "We as a people will revive our nation's commitment to faith, to what our Constitution calls the free exercise of religion — including, of course, prayer. Through prayer, faith can be restored."
He continues, underscoring his emphasis on faith. "We as a people are called to a greater purpose than ourselves. We are not only a beacon to the world, but we should be servants to each other. To encourage each other. To help each other. To lift up each other. Our fellow American, that we may all prosper together. We have to act on faith with the sure knowledge that we are pursuing the right goals and doing the right things," he states.
As clips of everything from space stations to family dinners play in a highlight reel, West refers to families as "the building blocks of society." It is through family and faith, he says, that we will become the kind of nation "God intends us to be."
It goes without saying that West's odds of winning the election at this point are slim-to-none. He only announced his presidential campaign in July and polled low when included in presidential election surveys. That hasn't stopped him from unveiling a 10-point presidential platform as well as 2020 "Vote Kanye" gear.
But, like, what makes West's super-late-in-the-campaign-write-in-ad even more surprising is that it isn't surprising — in a year as absurd as 2020, the fact that the rap mogul just dropped this video doesn't even faze us. It's nowhere near the most random, wild, unbelievable thing to happen in the last ten months. It can go down in the nutty history book of 2020.