Kate Beckinsale Shuts Down Idiot Who Thinks She's Too Old To Post Bikini Pics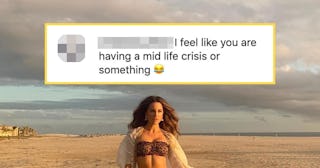 Kate Beckinsale/Instagram
Kate Beckinsale shuts down Instagram trolls who said her bikini vacation pics were a sign of a 'midlife crisis'
Kate Beckinsale is 46, single, and living her best life in Cabo San Lucas, Mexico. She's been sharing enviable snaps from the ultra luxe hotel where she's vacationing including some "Yas Kween" bikini pics, because that's literally what you do in Cabo, and not surprisingly, some ding-a-lings rushed into the comment section to tell her that she's "too old" for bikini pics, "looking for attention," and must be "having a midlife crisis."
https://www.instagram.com/p/B5i0ALDAFx7/?utm_source=ig_embed
"I feel like you are having a mid life crisis or something," someone wrote on her photo, to which Beckinsale immediately clapped back with, "Oh! I think that's because you're an annoying asshole."
Touche.
When she shared another picture from her lavish vacation, some idiot chimed in with, "Where's your rich sugar daddy?" and Beckinsale wasted no time writing, "I am he."
Damn.
Then, because women can never win, when Beckinsale posted a different bikini snap, instead of being slut-shamed, this time she was shamed for wearing what one commenter called "granny panties." Damned if you do, damned if you don't.
Beckinsale is the reigning champ of sassy Instagram comebacks, but when one commenter wrote, "shes too old..looking for attention" on her vacation photo, Beckinsale responded with true grace and empathy and got real about how society brainwashes women into believing our bodies cannot be powerful or sexy as we age.
https://www.instagram.com/p/B5deDSiArVT/
"When you get the urge to accuse someone of something, especially someone you don't know, or attribute an intention without ever having met the person, that the only thing really being achieved is revealing something about yourself or something you fear about yourself?" Beckinsale wrote. "I don't know you and I don't know who has made you feel that if you get older you have no value, can't be attractive or sexy or have a relationship with your body that isn't only self loathing, but as one female to another, don't let any of that noise bother you."
https://www.instagram.com/p/B5e4DooAq4P/
"If you're young and fearing getting older, don't," Beckinsale continued. "It's not at all how people scare you it will be especially for a woman. You'll come into your own power in a way that feels steady and so many more things will feel possible."
Preach.