Kelly Clarkson Proves She's Always Loved Ariana Grande With Throwback Tweet
by Valerie Williams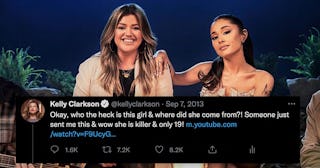 Art Streiber/NBC and Kelly Clarkson/Instagram
Kelly Clarkson was on to Ariana Grande's amazing talent long before most us knew it
Icons supporting icons — you love to see it and this week, we've gotten a double dose of actual queens publicly supporting younger artists, just because. Dolly Parton made sure to call out Lil Nas X's version of her beloved song "Jolene" and now, we have Kelly Clarkson pointing out that she was hyping fellow The Voice host Ariana Grande literal years before Grande was considered a big-time pop star in her own right. Because game recognizes game.
Clarkson took to her socials this week with a screenshot of her own 2013 tweet where she praised Grande, who was only just coming on to the music scene at the time. She captioned the post, "How it Started vs. How it's Going. Y'all, I love this girl! Did I mention she's gonna be on my upcoming Christmas album!?"
The old tweet reads, "Okay, who the heck is this girl & where did she come from?! Someone just sent me this & wow she is killer & only 19!" Of course, Grande replied back.
"omg that's me hi kelly clarkson thank you ily" Grande wrote, and a power pair of incredible and mutually supportive songstresses was born. Clarkson accompanied the throwback tweet with a recent photo of herself and Grande snuggling up on the set of The Voice, where both now play a mentor role to hopeful new artists, which is just kind of poetic considering Clarkson's start on American Idol and her noticing Grande's powerhouse talent super early in her career.
Grande got into the comments of Clarkson's post writing, "oh my goodness this post" and adding in another comment, "beyond honored! i love you so! thank you so so much for having me."
Grande recently appeared on The Kelly Clarkson Show where the two women made clear that they're definitely part of a mutual admiration situation with the pair happily chatting and Clarkson calling Grande "funny as hell."
"This is the coolest thing about you though," Clarkson gushed. "Backstage, I have to have my eye makeup redone. Like, she's hysterical. She's so funny. Very quick-witted. I didn't know this about you."
The stars also got into a funny exchange about how famous the other is and honestly, their hyping each other up is just too sweet.
The entertainment industry is cutthroat and pretty ruthless, especially with its treatment of female stars, so it's wonderful to see two absolutely iconic talents only here to support each other.