Kendall Calls BS On 'Kardashian Curse': 'Men Need To Take That Responsibility'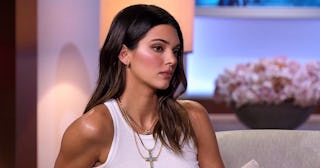 Keeping Up With the Kardashians/Youtube
Kendall Jenner has some strong thoughts about the so-called "Kardashian curse," and she didn't hold back
After 20 seasons of Keeping Up With the Kardashians, America's most famous family capped off a 14-year run on E! with a bombshell two-part reunion special. Host Andy Cohen didn't hold back with his questions, even asking the sisters about the alleged "Kardashian curse" regarding the men in the Kardashian/Jenner orbit — and none other than Kendall Jenner has feelings about it all.
In case you didn't know, the "Kardashian curse" is a bit of fan-created folklore in which men who date or marry the Kardashian ladies end up struggling in either their personal or professional lives. It's been attributed to several current and past men associated with them, including Kanye West, Scott Disick, Lamar Odom, and others.
But Kendall simply isn't here for it, making her feelings known during part two of the candid reunion. "What I don't like about this narrative is that the blame is on us," she told Cohen. "I think the men need to take that responsibility."
"I think that we're all extremely giving and caring and loving women," she continued. "And when there is a man in our lives we like, give everything to them and as a family, we all love them so much. It's almost offensive, personally."
Currently, the internet is spiraling over Kendall's boyfriend Devin Booker, saying his strong NBA streak is "breaking the Kardashian curse," which is just ridiculous.
Family matriarch Kris Jenner also came through with receipts proving the opposite of this so-called "kurse," sharing some of the many successes among the men, like a Super Bowl champ (Kim Kardashian's ex-boyfriend Reggie Bush), and two NBA champions (Odom and Khloé Kardashian's current boyfriend Tristan Thompson). Youngest sister Kylie Jenner chimed in to share that her on-again/off-again boyfriend Travis Scott is "doing great." Is it a curse? Or is it just that life has it's ups and down for lots of people, including the men that happen to be romantically linked to Kardashian women.
"Of course, factually, it doesn't actually add up," Kendall said. This isn't the first time the sisters have waxed poetic about the reported curse. In a 2018 interview with GQ, Kylie further shut down speculation that the women in the family somehow curse men who come into their lives. "It's everyone around us that aren't used to [the media attention]," said Kylie. "And we're just like, 'Oh, that'll go away in a day.' I know these stories aren't going to matter, so don't even let them affect you, you know?' But it's not just men — it's friends, it's people who come and just don't know how to handle it. It's the negative. There's a lot of people who love us, but there's also a huge handful of people who don't like us."
There you have it folks. That Kardashian curse? It's pretty sexist and honestly, it's a whole lotta much ado about nothing.