Kim Kardashian Shares A TikTok From North's Private Account
by Christina Marfice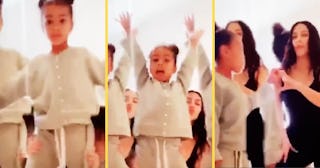 Kim Kardashian/Instagram
Kim Kardashian and North West are mother-daughter goals in their TikTok dance video debut
It's finally happened. North West, daughter of the undisputed queen of all things social media, Kim Kardashian, has joined that online world herself, and honestly? Her fans are ready and waiting for this, even if she is just 6-and-a-half years old.
Just days after Kardashian teased that Northie had her own private TikTok account, she's actually blessed us with one of the videos she and her daughter recorded together (that North isn't allowed to actually post online, because, you know, she's six).
The video wasn't posted to TikTok — North is only allowed to film videos to keep in her drafts so far. But mom Kardashian posted it to her Instagram account so the entire world could get a small taste of the incredible Kontent™ little North is already creating, even at her young age.
The video shows Kardashian and North doing some pretty impressive dance moves to Bomba Estéreo's "To My Love (Tainy Remix)," and who knew North had those kinds of moves? Kardashian posted the clip with the caption reading just, "TikTok."
As much as people are likely to tear Kardashian down for letting North participate in social media in any way, she's actually a totally cool mom and being very smart about introducing her daughter to online platforms in a safe and controlled way, making it something the mother-daughter pair can do together.
"North has a private TikTok account, so we do lots of TikToks together, and she puts them in drafts," she told Entertainment Tonight when she first revealed that North was working on her TikTok game. "She's not allowed to post them, but we have a lot of TikToks."
While North isn't allowed to post to her own social accounts, she still makes tons of appearances on Kardashian's Instagram, where the reality star loves to share photos and stories about her family. It's clear that she's serious about letting North start using social media only under her careful watch, and we definitely respect that.
On the other hand, though, we're not-so-patiently waiting for North to make her official TikTok debut. Ever since she performed an original song and dance at her school, we've known that North is destined for stardom, and we can't wait to see more of her creativity and love for performing. Kim Kardashian, please share more of these TikToks, please and thank you.
This article was originally published on