Kim Kardashian Goes Full 'Tiger King' With The Fam For Halloween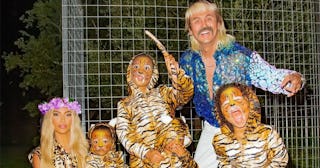 Kim Kardashian/Instagram
Kim Kardashian makes an A+ Carole Baskin, complete with her own 'Tiger King' crew
Kim Kardashian is wishing everyone good Hallow's Eve morning, to all you cool cats and kittens. She and her pal Jonathan Cheban donned their best Carole Baskin and Joe Exotic attire while giving the Kardashian-West kids the tiger treatment for their Halloween costumes this year.
Kardashian's outfit, complete with flower crown and, of course, an animal-print (of the Big Cat variety) clothes, is spot-on while Cheban's mustache and mullet steal the show. The kids are cute, of course, but we're here for the Netflix-docuseries-superstars-meets-E!-reality-superstars crossover no one asked for, thank you very much.
In her Instagram stories, Kardashian showcases the entire family getting into the Tiger King spirit, singing along to the infamous "Carole Baskin Song" and just generally looking 50 times more put together than the actual Carole Baskin and Joe Exotic ever could.
When Kardashian didn't know the words to the song, North finished for her while dancing around in her tiger jumpsuit and adorably painted face.
She also gave her own rendition of the Carole Baskin song, aka, the TikTok "Savage" dance.
Saint and Chicago were rocking the same costume as their older sister, totally oblivious to the popularity of the series or the fact that they're representing captive animals with sad lives.
Kardashian, who recently turned 40, has been taking some (valid) heat for the over-the-top, luxurious, private island birthday bash she held in honor of herself during a global pandemic. Because not everyone can quarantine, afford a vacation, and party for days on end with family and friends, the party — images of which she shared on social media — didn't go over super well with the public proletariat.
And, because people with unlimited amounts of money have very different lives, Kardashian's husband Kanye West gifted her with a very expensive, very weird, very realistic, very… sweet? hologram of her deceased dad, Robert Kardashian, Sr., wishing Kim a happy birthday.
At one point during Kardashian's Halloween videos, she turns the camera on herself and asks, "Alright guys, can you guess who I am for Halloween this year?"
"Of course you can," North said, clearly out of patience.
As Kim tries to wrangle her tigers, she shouts to Jonathan in the other room, jokingly saying, "Joe, let's go! Joe, come on! Literally, I'm going to kill you."
Anyway, the best part of the Kardashian family Halloween was how relatable it is to be a mom, trying your best to get the kids into your version of a fun Halloween, and dealing with squealing, wriggly toddlers and a side-eyeing 7-year-old.
Happy Halloween to the Kardash-i-cats and everyone out there just trying to survive and find some holiday joy this weekend.