ESPN Reminds Us That Kobe Bryant's Greatest Legacy Was Being A 'Girl Dad'
by Madison Vanderberg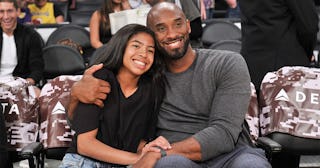 Allen Berezovsky/Getty
ESPN anchor Elle Duncan shares story of the time Kobe Bryant told her he was proud to be a 'girl dad'
In the wake of Kobe Bryant and his daughter Giana "Gigi" Bryant's deaths, tributes are pouring in from all over the world, but one tribute, in particular, has truly captured Bryant's essence, not just as a legendary basketball player, but as a dad — and more specifically, as a girl dad. ESPN anchor Elle Duncan spent a minute during a SportsCenter broadcast to share a story about the time she met Kobe in 2018, reminding us that his greatest legacy is being a "girl dad."
Duncan said that when she met Bryant, she was eight months pregnant and expecting a baby girl. When she told this to Bryant, he lit up.
"I asked him for advice on raising girls…and he said, 'Just be grateful that you've been given that gift because girls are amazing,'" Bryant told her while adding that, "I would have five more girls if I could. I'm a girl dad."
We know now that Bryant and Gigi, along with her coach and teammates, were on their way to a basketball game before the fatal accident, and Bryant told Duncan that day that Gigi's talent for the sport rivaled his own.
"He said that middle one was 'a monster. She's a beast. She's better than I was at her age. She's got it,'" Duncan recalled with emotion in her voice. "That middle one, of course, was Gigi."
Duncan teared up while sharing her story, but ended it on this hopeful note.
"When I reflect on this tragedy. I suppose that the only small source of comfort for me is knowing that he died doing what he loved the most: being a dad. Being a girl dad," she said.
The clip is powerful on its own, but thanks in part to people like Chrissy Teigen, who shared the video on Instagram, writing "in a sea of tributes that ached my soul, this one had to be the most beautiful and heart wrenching," the video went viral. Shortly after, "Girl dad" started to trend on Twitter, with fans chiming in to share their stories about raising girls.
"I'm so moved by the outpouring of support behind my story about Kobe," Duncan wrote on Twitter, "And I love that #girldad is trending.. so for all those proud fathers who still have their girls to love on can you flood my timeline with pics of you and your flock. Honestly I need it as much as anyone rt now."
Kobe Bryant was a basketball legend, a supernatural talent, a force of nature, but more importantly — he was a girl dad.
This article was originally published on