The Internet Is Pretty Sure Kourtney & Travis Got Married In Vegas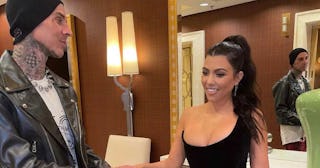 Instagram
People are freaking out over cryptic social media posts that seem to suggest Travis and Kourtney got married
What happens in Vegas stays in Vegas… unless you're Kourtney Kardashian and Travis Barker. The PDA enthusiasts shared a round of blurry, lovey dovey photos of a Vegas trip over the weekend, and fans are convinced that Kourtney and Travis got secretly married in Sin City.
Kourtney's post was filled with nothing but sweet sentiments, with fans calling their power couple status "Goals af" and "Favorite couple."
It's easy to see why fans would assume the two tied the knot — Kourtney and Travis have barely been able to keep their hands off each other since they went public with their relationship earlier this year, and the internet loves their love… even the parts that might seem a lil too TMI, like Travis's "special" Kourtney candle. Kourt and Travis went to Vegas to watch UFC 264 live… and show the world their love for each other, jumbotron style.
Travis posted a similar set of photos on his Instagram with two vampire emojis as the caption, which only adds to the mystery of the weekend.
Okay, check, they are very in love and maybe got up to some shenanigans while in Vegas – so what's with the wedding rumors? It's Kourtney's hairstylist, Glen Oropeza, that has fans convinced the two said "'Til death do us part."
Eagle-eyed fans also noted that Oropeza posted a carousel of photos of Kourt (looking gorgeous as ever, of course) and Travis with the caption "…NOWWW I understand why ppl tie the knot in Vegas 💒🥲🖤 There's nothing like love AND a good time 🥳"
Naturally, this combination of cryptic posts (Come on – her hairstylist put a dang CHAPEL emoji in his caption!) had fans speculating that the couple ran away to Vegas to get hitched. Some even noted that the hairstylist changed his emoji punctuation from the ring emoji to a black heart, adding more confusion to the conversation.
A little while after Oropeza's edited post, Travis's daughter Alabama posted another fleeting piece of evidence in her Instagram stories, where she shared her father's Instagram post and added, "@travisbarker @kourtneykardash So happy for you guys ❤️❤️🥺🥺"
It seems like everyone in the Kardashian/Barker circle knows something that we all don't. So what's the deal? Are Kourtney and Travis married? Are they just engaged?
Some people even think that all of these posts mean that Kourtney is pregnant, which is a whole other ballgame.
Or are we all speculating wildly on what was just a hot and romantic Vegas getaway? Or something? Someone tell us what is going on, we need to know!
If anyone could fill us in ASAP, that would be great. Hold all of our calls until further notice.
Whatever happened in Vegas, we're happy for Travis and Kourt.