Kristen Bell And Dax Shepard Both Forgot Their Wedding Anniversary
by Leah Groth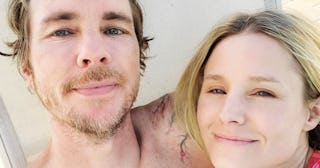 Kristen Bell/Instagram
Kristen Bell explains why she and husband Dax Shepard can't remember their anniversary, and we are so into her reasoning
Sometimes it's hard to believe that Kristen Bell and Dax Shepard are celebrities. Not only are they super cool, laid back, hilarious, and totally transparent about everything — ranging from having anal worms to their struggles in parenting — they are so relatable. Even though it seems like Kristen and Dax have been married forever, the celeb couple recently celebrated their five-year anniversary. To say they "celebrated" it, however, wouldn't exactly be accurate, because they didn't even realize it had passed.
No, you are not the only one who can't remember your anniversary, and it's totally okay.
"We were reminded by family and friends that at some point last week, it was our 5 year wedding anniversary," Kristen wrote in her post. "In truth, neither of us remember which day."
The reason their anniversary date slipped by them had nothing to do with the strength or importance of their relationship, which the Frozen 2 star made very clear.
"Thats because we have been living the celebration of our commitment every moment since," she explained. "I find when you are living with gratitude each moment, the dates become irrelevant. To get to wake up next to someone who has put hard work, respectful fights, patience, understanding and gratitude into your relationship is the definition of love."
Are they the cutest, or what? And seriously, why have we all been defending the lack of making anniversaries such a monumental affair?
"I will never remember the date of our anniversary @daxshepard, and i know you wont either. And thats just one more thing i love about us," she concluded the sweet post.
An hour later she shared another photo of their "anniversary" smooch, taken right after "grandma" sent them a "happy anniversary" text.
"We were both on our way out the door but stopped for a quick hot and heavy make out sesh while Frank stood close like a creeper," Bell captioned the snap of their seriously passionate kiss.
While some people enjoy going totally over-the-top for their anniversary, splurging on expensive gifts and romantic dinners, there is something so ridiculously amazing and authentic about Kristen and Dax's approach. Love doesn't have to be a spectacle to be real. The bond between two humans can be celebrated intimately, on a daily basis, instead of on one calendar day each year.
Happy (belated!) anniversary, Kristen and Dax! You guys are serious couple goals.