Low-Prep Letter B Crafts Your Toddler Or Preschooler Can Do At Home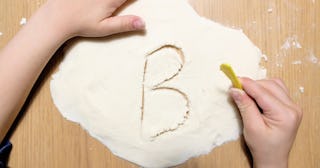 Massimo Calmonte/Getty
Teaching your child the alphabet can seem tricky. The thing is, you don't need an expensive curriculum. You don't even need worksheets. In fact, you're probably better off keeping it simple. After all, kids learn best through play and who has the energy to plan out crafts a week or days in advance. Hands-on activities are a mom's best friend when teaching your preschooler or toddler their letters, numbers, and other basic skills. Ahead, we've rounded up an easy list of letter B crafts you can do with your little one. These activities require few supplies and minimal prep — therefore, you'll want to bookmark this list and refer to it often.
If you're looking for easy ideas to implement learning into your daily routine, make sure to try a few of the activities listed below — and don't forget our list of all the fun letter A crafts you should try. Remember, these are for the letter B, but most of them are interchangeable with other letters of the alphabet.
Looking for more letter crafts for kids? Check out our letter C, D, E, F craft pages and get busy.
RELATED: 16 Dino-Mite Dinosaur Crafts For Dino-Obsessed Preschoolers
Here are a few more tips for creating a literacy-rich space for your kids.
Let your kids pick out new books each week from the library.
Read anything and everything out loud — books (of course!), magazines, street signs, even the back of the cereal box works.
Talk to them… a lot. The more words kids are exposed to at a young age, the larger their vocabulary will be by the time they start school.
Listen to audiobooks and podcasts. Many free and inexpensive options are both entertaining and educational.
Point out letters and words as you go about your day. The Target store sign, the buttons on the remote, the captions on the TV… words are all around us. Help your kids take notice.
Pick up a pack of sticky notes and label things around the house — lamps, light switches, doors, windows, the microwave, and so on. Seeing the label next to the item will help them start memorizing those words.
Easy Letter B Crafts
1. B is for Boat
Here's a simple craft you can make with your kids using either plain white printer paper or origami paper — an origami boat. Art for Kids Hub on YouTube is an awesome channel with a ton of quick and easy craft tutorials for kids.
2. A Bear-y Special Friend
B is for bear… and with any of these fun and free printable bear coloring pages, your child can decorate their bear and hang it up on the fridge. You can let them color with crayons, markers, or paint. Or, if you want to get really crafty, cut out clothing from construction paper and let them use glue sticks to dress up their bear any way they'd like.
3. The Letter B — in 3D
Playdough is something that most moms keep on hand. If you don't, it's easy to make yourself using simple household ingredients and our trustworthy playdough recipe. Help your child shape the letter B in 3D for a hands-on lesson that provides a sensory-rich experience while promoting the development of necessary fine motor skills. You can use printable playdough mats (laminated or slipped in a sheet protector) to level up the learning.
4. Paint a Pretty Picture
This project from Kids Activities Blog is so much fun. A watercolor paint palette can be found for just a few dollars and is one of the only things needed for this crafty learning activity. The other supplies you'll need are white printer paper and a white crayon. Take your paper and draw a large uppercase and/or lowercase letter B. You won't be able to see the white crayon on the white paper, but when your child paints over it with watercolor paints, you'll see the white letter Bs stand out. The result will be a bright and colorful picture your child will be proud to display. This craft is versatile and can be done with any concept you're teaching. Or, let your child draw their own picture and then paint over it for an upgraded coloring experience.
5. Window Art
As we said above, worksheets are unnecessary for teaching your toddler or preschooler their letters. In fact, writing with other mediums is much more fun. Pick up a pack of bright-colored dry erase markers on your next trip to the store. Then, let your child practice writing their letter Bs on a large window. This is a great skill-building activity and super simple to clean up. You can even leave their window art up and let them proudly display their letter learning for all the neighborhood to see.
6. Bouncy Ball Painting in a Box
If your kids have a million small bouncy balls, here's a great way to put them to use (and get rid of them…). Put the bouncy balls into a shoebox and pour different colored paints inside. Make sure it's closed and while shaking the box, go over objects that begin with the letter B, like ball, bounce, box, or blue. After the letter lesson and shaking is complete, open the box and check out the colorful masterpiece inside.
7. Bug Museum
Buy a bag of plastic bugs to get started. Mix baking soda, black or brown food coloring, and water together. Make sure the consistency is thick and has a larger portion of baking soda for a sandy feel. Pour the mix into a small plastic bowl. Then sprinkle the plastic bugs onto the "sand." Your kids will get a sensory experience and get to burrow their scorpions and bumblebees into the "sand."
8. Button Butterflies
Have you ever seen a button butterfly? Not only is the alliteration good for teaching your little one the letter B, but they are also super fun to make. Cut out two upside triangles on the top and bottom of a plate. Then gather a bunch of buttons and glue. Let your child customize their button butterfly wings whichever way they like and when they're done, glue two short pipe cleaners on the top for antennas.
This article was originally published on