A Letter To My Fellow Scary Mommies
by MommaBug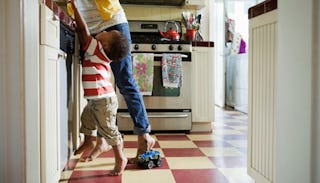 Dear fellow Scary Mommy,
I know you. Yes, I've read the confessions you write. I know that last night, you put your kids to bed an hour early so you could get some peace. I know that you left your four month old in front of the television most of the day yesterday. I even know that you regret becoming a mother, and you know you're doing it all wrong.
You know what I have to say about all of the 'terrible' confessions you post day after day?
You're too damn hard on yourself. That's right, I said it. You, my fellow mommy, are your own worst enemy, and it's dragging you down, all that guilt you carry.
Now believe me, I've read some dark confessions. Maybe you are the mother who doesn't feel you measure up to what a mother is supposed to be, or maybe there's something much worse weighing on your chest.
But what is a mother supposed to be? Who's to say?
Let me share a little secret with you. Not every mother experiences an intense, magical bond with her child. Not every mother can get through Tuesday without a glass of wine (or two). Not every mother is perfect.
Some mothers climb into bed at night, and cry. Some mothers are living in their own personal hell, and it's all they can do to climb out of bed in the morning. Some mothers yell at their three year old for taking too long to put on her shoes, and somehow a week's worth of pent up frustration comes spewing out.
Shit happens. Motherhood isn't always easy, and it isn't ever perfect. Sometimes, you're just doing it all wrong, and you can't seem to make it right.
I see you, fellow mama, and you're just so hard on yourself. Maybe it will get easier, or maybe it won't. All I ask is that, through it all, you remember that you're only human. And there are millions of moms around the world struggling with you, feeling inadequate with you, holding in secrets that would make a person bleach their own brain if they were to hear them. For better or for worse, we're in this together.
I'll keep your secrets, my fellow mommy, if you'll keep mine.
Related post: The Scary Mommy Manifesto
This article was originally published on