10+ Imaginative Letter I Crafts For Toddlers And Preschoolers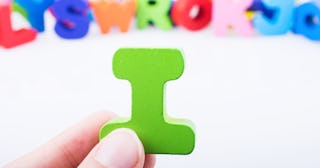 Turgay Koca/EyeEm/Getty Images
Is your tiny tot interested in a bit of letter learning? If you're ready to start teaching your child their ABCs, we've got some hands-on activities to get you started. Since kids learn when they're having fun, working on the alphabet by incorporating play is a solid way to make sure the information sticks. One way to do this is to get crafty (no, not sneaky — crafty in a literal sense!). We're talking about breaking out the art supplies and creating something cool. Arts and crafts offer kids the opportunity to engage their imagination through constructive play, develop fine motor skills, and reinforce age-appropriate academic lessons taught at home or school. Today we're gonna show you 10 letter I crafts you can do with your toddler or preschooler to learn all about this innovative and illustrious letter.
Kids absorb knowledge like a sponge, so any time you can snag a few minutes and incorporate some learning, you won't go wrong. Just remember as you embark on this educational activity to keep it light. Don't pressure your learner. Make it fun for them. But definitely keep those early math and literacy skills in mind when interacting with your toddler or preschooler. And when little ones know their ABCs, that's one of the first steps in learning to read. If you're homeschooling or want your kids to have this essential skill before they start school, start by working with them to recognize letters and the sounds they make.
Let's get started with a few letter I crafts. Once you finish these, add our letter A, letter B, letter C, letter D, letter E, letter F, letter G, and letter H crafts to your educational toolbox, too.
10+ Easy Letter I Crafts for Toddlers and Preschoolers
1. Letter I for Ice Cream — Punk Rock Preschool
I scream; you scream; we all scream for ice cream. You know how that old saying goes, right? And for good reason. Everyone loves ice cream! Short and sweet, this frozen-treat-themed craft hits the spot. Bonus: You can follow it up with our super-sweet ice cream coloring pages.
2. Cute Inchworm Craft — All Kids Network
What's cuter than a teeny tiny inchworm crawling through your summer garden? Not much! You can make your own paper version with this easy how-to guide from All Kids Network.
3. How to Draw Cartoon Iron Man — Art for Kids Hub
Do you have a superhero fan at home? If you do, show them this Iron Man drawing tutorial and watch their eyes light up. Even better? You could sit down and draw it with them. You'll be glad you did.
4. Letter I for Insect — Punk Rock Preschool
Punk Rock Preschool has done it again. They're back with this fun insect how-to, perfect for keeping kids busy when they've got ants in their pants. Give a bored kiddo craft supplies, and everybody wins.
5. The Letter I, "I Use I" — The Storybots | Netflix Jr.
Admittedly, this is more of an activity than a craft. Well, actually, we're going to help you turn it into a craft-ivity. So, kids love the Storybots, right? Use that to your advantage! As these charming robots sing about all of the items that start with the letter I, have your little one draw as many of those items as they can on a blank piece of paper. You can then use those drawings as a springboard to discuss even more educational stuff, like spelling.
6. How to Draw an Ice Cream Cone — Art for Kids Hub
Tease those tastebuds with this sweet treat. It looks almost good enough to eat if you ask us. Yum. Draw an adorable ice cream cone with this charming daddy-daughter duo, and who knows? Maybe it'll inspire you to head out for the real thing when you finish.
7. Letter I for Island — Punk Rock Preschool
Are you dreaming of an island getaway? If so, you're definitely not alone. Share those #goals with your toddler or preschooler by showing them this fun activity from Punk Rock Preschool. Just beachy!
8. Simple Letter I Craft — Kids Activities
Paper, googly eyes, and pipe cleaners are all you need to craft this (not so) creepy crawly with your little one. Best part? The Kids Activities channel on YouTube has so many letter learning activities to enjoy.
9. How to Draw Joy from Inside Out — Art for Kids Hub
Speaking of the letter I, we'd be remiss not to mention Inside Out. It's a hit for those of every age and an incredible tool for teaching kids about feelings. Watch the movie and keep the joy alive by drawing Joy with the beloved family that hosts the Art For Kids Hub channel on YouTube.
10. Ice Cube Toys
This craft is great for the winter. Get a bunch of funky shaped ice trays that mold cool shapes. Besides making snowmen this winter, add tiny ice sculptures to your child's fun. You and your kids can make the neatest figures, and when all your figures have frozen, you and your children can pop them out and make up stories about them.
11. Letter I for Igloo — Punk Rock Preschool
It's a snack and a craft all in one! This how-to video from Punk Rock Preschool shows you how to make an igloo with just a few simple supplies. And, um, the igloo consists of mini marshmallows! You and your kids will have so much fun building (and, let's be real, eating) this arctic artform.
12. Inchworm Invention
Just like your little one, inchworms are super cute. So, to teach them more about these little critters and dive deeper into the fantastic world of the letter I, you're going to need a few toilet paper tubes. Then have them color the tubes whichever color they like. Fold the roll like an accordion so that it has a bendy shape and after that, add pipe cleaners for antennas, googly eyes, and a smile!
13. DIY Island Resort
Build your very own exotic island. This is a great time to break out the DIY moon sand recipe. Get a small plastic container for your sand. Then make your palm tree out of brown and green pipe cleaners and put it in the middle of the sand. You can even place a few Barbies or action figures on the beach for a realistic touch.
This article was originally published on