Nostalgia + Summer = Happiness
Ben & Jerry's New Ice Cream Sammie Flavor Tastes Like Childhood
An ice cream sandwich without the sticky fingers? Sign us up!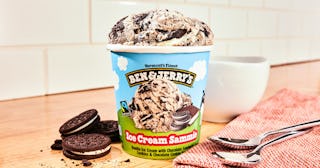 Courtesy of Ben & Jerry's
Nothing transports a tired parent back to their childhood quite like a delicious, old-school ice cream sandwich. The simple combo of vanilla ice cream sandwiched between two chocolate cookies is guaranteed to remind you of long summer days spent playing tag in your yard until your mom or dad called you in for a snack. These days, you're the one calling in a little one — there's no reason they shouldn't share in the ice cream sandwich goodness. Enter Ben & Jerry's new limited flavor: Ice Cream Sammie.
That's right. The brilliant minds behind famed flavors like Phish Food and Cherry Garcia are reinventing a childhood classic for adults (and kids, if you feel like being generous — don't worry, we won't snitch if you hide a pint behind the frozen broccoli in the freezer). Ice Cream Sammie is exactly like it sounds: The yummy flavor starts with a vanilla base and then adds chunks of chocolate sandwich cookies and chocolate cookie swirls to give the classic ice cream sandwich a modern-day upgrade.
The best part of all? This version of an ice cream sandwich cuts down on sticky fingers and the chance of accidentally biting into the paper wrapper. However, no one will blame you if you decide to create an ice cream sandwich *sandwich* by layering the new flavor between two of your favorite cookies. Sure, the chance of stickiness increases, but the look of pure joy on your kid's face will be worth it.
When (and where) can you buy Ben & Jerry's ice cream sammie?
The new flavor hits shelves wherever you buy ice cream nationwide this May. Ben & Jerry's timed the release so you can start indulging just in time for Memorial Day, aka the unofficial start of summer.
How long will ice cream sammie be around?
Ice Cream Sammie is a limited-batch flavor. In other words, get it while you can. The company didn't share an exact date when this tasty treat will return to the flavor vault, but it did promise the pints will stick around through summer.
And just in case you're experiencing some deja vu, this isn't the first time Ben & Jerry's rolled out an Ice Cream Sammie pint. It previously appeared on shelves for a short time in 2019.
Is the new Ben & Jerry's flavor available in non-dairy?
Ben & Jerry's has a nice selection of non-dairy flavors, but the brand's lactose-sensitive fans will have to sit this flavor out (or try it with a side of Lactaid). Per the press release, the ice cream uses "Fairtrade ingredients, non-GMO sourced add-ins, and fresh milk and cream that is Caring Dairy-certified."
If dairy is your enemy, try one of these non-dairy Ben & Jerry's options instead (just make sure it's clearly marked non-dairy so you don't inadvertently grab the full dairy version):
Chocolate Chip Cookie Dough
Cherry Garcia
Netflix & Chill'd
Americone Dream
Coconut Seven Layer Bar
Chocolate Fudge Brownie
Peanut Butter & Cookies
Peanut Butter Half Baked
Phish Food
The Tonight Dough
Mint Chocolate Cookie
Mint Chocolate Chance
Oatmeal Dream Pie
Light! Caramel! Action!
For everyone else, grab Ben & Jerry's Ice Cream Sammie and enjoy feeling like a kid with your kid this summer while you can.