15 Best Disney Toys To Keep Kids Living Their Most Magical Lives Right At Home
by Steph Osmanski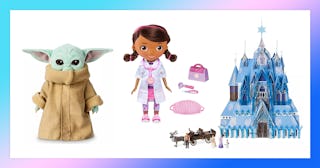 Disney / Walmart
You know what they say about Disney World — it's the happiest place on earth. (Maybe not for all parents after a long hot day, but honestly some of us are eating Disney sh*t up like it's booze-infused dessert.) But for the kids, what if you could bottle up that happiness and magic and take it home, without all of the hassle of traveling and the steep cost of the park? Makes cents! That's why moms are always on the hunt for the best Disney toys to appease their little monsters.
RELATED: Disney Character Names That'll Bring Back Those Magical Memories
From classic characters like Mickey Mouse to newer characters introduced on Disney+ Junior shows like Fancy Nancy, we've gathered everything from interactive sets and dress-up gear to board games and educational toys. Check out our 10 picks and kick back and get a little nostalgic while watching your kid be entertained.
Be sure to check back for more Team Scary Mommy-approved toys to keep the little ones occupied!