19 Small Towns That Feel Like They're From A Christmas Movie
From holiday parades to dazzling lights, these little towns go big when it comes to Christmas celebrations.
by Amber Guetebier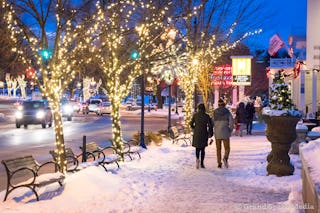 Strolling the streets with hot chocolate in hand, watching shoppers rush home with their treasures while your kids take in the sparkling lights... it sounds like a Christmas song or, more accurately, the backdrop to a Christmas film. The great news is that all around the U.S., there are dozens of adorable, very real towns that feel just like you're smack in the middle of a Hallmark holiday movie set. Family getaway, anyone?
Whether you're looking to recreate a scene from your favorite classic holiday movie or just want to make some memories of your own, there's nothing like walking in a real-life winter wonderland. As a parent, few things are more magical than seeing the wonder of the holiday season through your kids' eyes.
These charming small towns may have fewer residents than big cities, but they make up for it in Christmas cheer.