If You Aren't Keeping A Car Maintenance Log, You Will Be After Watching This Video
A viral TikTok reveals how it could save you hundreds.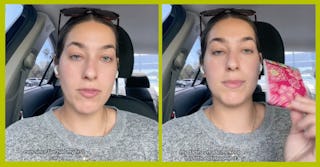 @fat_biscuit/TikTok
It's not uncommon for a vehicle to be one of a household's biggest monthly expenses, between the car payment, insurance, and gas — and that's to say nothing of the maintenance costs, which always seem to pop up at the most inopportune times and set you back way more than you allotted in your budget. TikToker Jane Early (@fat_biscuit) has been there. In fact, she's decided to pass on a crucial piece of advice from her dad in the hopes it can help save someone from dropping a mini-fortune on unexpected vehicle maintenance costs.
Owning a car often feels like a necessity in the U.S., but with it comes a ton of expense and responsibility. Nothing about buying or maintaining a car feels easy or straightforward, especially dealing with mechanic shops or auto part stores. Are they hellbent on bleeding you of every penny you have to your name?! Of course, because you're so reliant on those stupid four wheels, you shell out the money for whatever they say you need this week.
Constantly feeling the pinch? Know deep in your soul that you're being taken advantage of or paying for things you already paid for? Time to take a page out of Early and her all-knowing dad's playbook by starting (and keeping up with!) a car maintenance log.
Early's story starts out frustrating, but the handy-dandy notebook full of tedious scribbles of every car-related purchase she made paid off big-time in the end. So, yeah, after watching her video, you can bet a tiny notebook's going in my car, too.
"Ever since I've had my first car, my dad has made me keep this little notebook in it, and I have to write down every single service I get done on my car. An oil change, new tires, whatever," says Early. "I used to think it was so annoying and that my dad was such a boomer for making me write everything down. 'I'm never gonna use this. What's the point?'"
She recently learned precisely the point of that notebook.
After realizing her battery had died, she called the local O'Reilly auto store where she purchased the battery. She knew it was probably still under warranty. Early even goes so far as to explain that she'd chosen O'Reilly's for her last battery purchase because of a bad experience at one of the other auto part stores. When her warrantied battery died, the other store claimed they had no record of her purchase and refused to replace it.
Early didn't want that to happen again, so she went with a new store that swore they kept records of their purchases. Surprise, surprise, though — O'Reilly's also claimed they had no record of Early's battery purchase.
She, of course, did... thanks to that trusty maintenance log.
"Pulled out my handy dandy notebook, flipped back to two years ago, and I found the exact date of when I purchased this battery," Early shares. But she wasn't done. "So, then I went to my bank statements online, found the purchase in my bank statements on that exact date, and called the O'Reilly's back and was like, 'What the hell? I have the proof!'"
She got the runaround for the store employee yet again. She challenged him to look at the purchase history for the store on that date to confirm her purchase. She's not sure if he did, but he told her to bring her car in and replaced her warrantied battery for her.
"I got a $260 battery today for free because I was still within warranty," Early says. "So, everyone: Keep a damn notebook in your car. Write everything down that you do. It seems pointless, but there probably will come a day when you need it."
Dad saves the day again!
What must you write in your notebook?
Oil changes
Tune-ups
Brakes purchases
Battery purchases
Any other purchase or service you've paid for
What should you note about each purchase?
Date
Total cost
Every single thing they did (sometimes a tune-up becomes something else)
Exact location, not just the store
Anything else worth writing down?
Even if you have a newer car, it doesn't hurt to write down your average miles per gallon every few months. Losing miles per gallon indicates that something is going on with your car. If you spent all of 2022 averaging 30mpg, and suddenly your car's monitor or your own math (or both) are saying you're down to 25mpg, it might be time to investigate why. Sure, your driving habits might have changed — or it might be time to log a little more maintenance.