Hot Damn! Chick-fil-A's New Sandwich Has Pimento Cheese, Pickled Jalapeños & Honey
And to cut the heat, there's a new milkshake in town, too.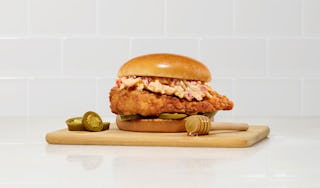 Say what you want about Chick-fil-A's checkered past, but there's no denying that "the Lord's chicken" has a special place in the hearts and bellies of millions of people — and thanks to a brand new item on the menu, that number stands to grow even more. Everybody say "hello" and open wide; it's time to welcome a fresh favorite into the fold: the Honey Pepper Pimento Chicken Sandwich.
Oh yeah, baby. The name is a mouthful, and so, too, it seems, is this brand-new seasonal sammy. It packs both sweet and spicy flavors for one heck of a ride to Flavortown. (Anybody know how Guy Fieri feels about Chick-fil-A?)
While seasonal beverages like (SunJoy!) and desserts have been a staple for quite a while at Chick-fil-A, their entree menu has stayed somewhat consistent over the years. Now, though, they're set to introduce this very first-ever "seasonal twist" on the original chicken sandwich.
From the official press release, the Honey Pepper Pimento Chicken sammy (HPPC) features "an original Chick-fil-A filet, topped with custom-made creamy pimento cheese, mild pickled jalapeños, and served on a warm, toasted bun drizzled with sweet honey."
Live in the Carolinas? You might have already tried the HPPC during the market test. The sweet and slightly spicy sandwich was one of 30 creations Chick-fil-A has tried out over the last year and tested at select Chick-fil-As. According to market research, testers ranked it highly... even above the grilled sandwich option.
"The Honey Pepper Pimento Chicken Sandwich uses ingredients and flavors our guests have never experienced at Chick-fil-A before, balancing savory, sweet, and spicy elements using the highest quality ingredients," said Stuart Tracy, Chick-fil-A chef and creator behind the HPPC. "With our custom-made pimento cheese and specially sourced jalapeños, we hope to deliver a new and exciting sandwich our guests will love."
The HPPC isn't the only new menu item about to knock your socks off. Chick-fil-A will unleash a new dessert this fall, too. Coming straight for a happy tongue near you is the Caramel Crumble Milkshake. Chick-fil-A chef Christy Cook got the inspiration for this treat from the flavors that caramelize at the bottom of a blondie pan. Um, yum!
The milkshake starts with a base of Chick-fil-A's hand-spun "Icedream," which is the very vanilla Chick-fil-A version of ice cream. (The best drive-thru ice cream on the planet, by the way. And if you don't know, now you know.) The Icedream is blended with butterscotch caramel flavors. The "crumble" comes into play with blondie crumbles blended right into your new favorite shake. Sounds like the perfect way to cool off after an HPPC heats things up!
This absolute delight is the seventh seasonal milkshake Chick-fil-A has unveiled, already wowing fans with its summery peach option and winter-inspired peppermint shake. The Caramel Crumble milkshake was tested way back in 2021 in Salt Lake City under the name "Butterscotch Crumble" and did so well that the cows are bringing it to everyone in just two weeks.
With these mouth-watering new options — along with Chick-fil-A's reliable roster of favorites — the Chick-fil-A fandom seems poised to get even more fanatical. After all, some people rock Chick-fil-A-themed merch or buy Chick-fil-A sauces to keep in the house in bulk (*raises hand* guilty as charged!). And who can blame 'em? The chain's reliably simple and delicious menu offers a ton of flavor from just one meat: chicken.
You can find and try the Honey Pepper Pimento Chicken Sandwich and the new Caramel Crumble shake at a Chick-fil-A near you starting Monday, Aug. 28. See you on "opening day."