25 New Baby Products So Clever, You'll Wonder What Parents Did Before
Cue your mom's voice: "I wish I'd had that when you were a baby!"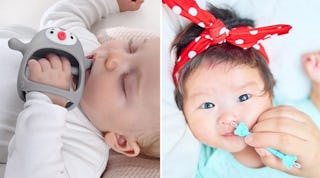 If there ever was a parenting truth you learn quickly in those early days of parenthood, it's that babies require a lot of stuff. Which, c'mon, that tracks when you consider how much high-tech equipment hospitals have to keep tiny humans alive — and then they send you home with little more than the love in your heart. So, you do what any new parent would: You furiously Google, Facebook friend-poll, and ask everyone from your hairdresser to the lady at the post office what products make life as a new parent easier. But you don't really have time for that kind of legwork right now. You need a list of clever new baby products that you can bookmark and circle back around to whenever you're ready to "add to cart." Well, you found it.
Your mom or grandma might look at the following items and say, "We didn't have that back in my day!" In all fairness, that's true. Even your friend who had babies a few years ago might not have heard about some of these gadgets, gizmos, and hacks yet. But those same parents would undoubtedly agree they wish they had things like this when they brought home their babies. How many times have you looked at something so helpful and practical... and lamented that you failed to come up with it first? More than once or twice, right? The following baby products all fall under that banner.
So, while you can't reap the benefits of having invented them, you can enjoy using them to make life with your little one a skosh easier. Bonus: They make fantastic baby shower gifts.
We at Scary Mommy only include products that have been independently selected by our editors. We may receive a portion of sales if you purchase a product through a link in this article.