10 Essential Baby Shower Gifts For Every Virtual Baby Shower— New Moms Will Appreciate These During Social Distancing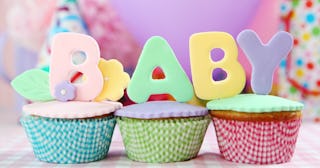 kirin_photo/Getty
Virtual baby showers are now a thing in these mid-pandemic times. In this era of social distancing, we've learned to adapt our everyday lives to reclaim some sense of normalcy. Although it's hard to predict what will happen days ahead, babies are still being born, leaving soon-to-be moms with a huge double dose of uncertainty. Enter the virtual baby shower in which friends and family are invited to gather via web video to mingle, play games, and watch the guest of honor open gifts.
What's a virtual baby shower?
Social distancing or not, expecting moms still need to be equipped with essentials like baby bathtubs, bottles warmers, and soothing sound machines to get through those first few weeks (er … years).
"Motherhood can be an isolating, lonely time for many, which can be amplified during quarantine— especially as 'milestone' moments in our lives need to be completely reimagined," says Michelle Kennedy, CEO of Peanut, a networking app designed to connect like-minded, local women. "Peanut allows current and soon-to-be moms to connect and support one another, and recently, the community has been so creative in their ideas for hosting virtual baby showers!"
While the virtual version of a baby shower isn't quite the same as an in-person shindig, it can have almost all the elements of the real thing. It can include digital invitations and thank-you notes, activities like baby Mad Libs or guessing games, and on-camera gift opening. (PS- Head to Peanut to talk to real moms about their virtual baby shower experiences if you need fresh planning ideas.)
What are the best gifts for a virtual baby shower?
Whether you're hosting a virtual baby shower, attending as a guest, or you're an expecting mom looking to fill your registry, we've gathered a few must-haves that future parents absolutely need for a less stressful introduction into parenthood. While the celebration will be less traditional, just remember: The point is to help Mom prepare for the baby on the way, which is what's most important — maybe now more than ever. And the best news? All of these picks are available on online for easy (and safe!) shopping, sending, and receiving.
Best Baby Gifts for Peace of Mind
Best New Baby Essential Gifts
Best Gifts New Moms Don't Realize They Need
Easiest Baby Gift to Send (Especially Last Minute)
If you found these mom-approved virtual baby shower gift ideas helpful, you'll love our other baby gear picks, too!
This article was originally published on