Just Some Unique Coffee Mugs You've Probably Never Seen Before
by Emily Popp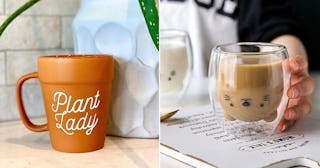 Etsy / Amazon
Our morning coffee routine is a sacred ritual. And so all the more reason to drink a piping hot cup of joe (or tea) out of a unique coffee mug. Because to be honest, we don't even hear sounds or see colors before we have our coffee. The perfect cup can turn us from zombies to real, live humans, and so the perfect cup deserves the perfect mug. And sure, you could drink out of that same, beaten-up mug you got at the flea market a decade ago…or you could treat yourself to a new, cute one. Because these days, more than ever, it's the little things that count. And if you're looking for gifts for your girlfriends (whether it's their birthday, or just because), a mug is always a thoughtful, but practical choice.
RELATED: 20+ Mind-Blowing Facts About Coffee That Will Impress At Trivia Night
So we've found the most unique coffee mugs that will up your caffeine game and put an extra zip in your zang. Whether you want something artsy and handmade or kitschy and novelty (like a Bob Ross heat-activated mug or Disney character mug), we've got something for every coffee lover under the sun.
Below, see our picks for the most unique coffee mugs.
Unique Coffee Mugs
Novelty Coffee Mugs
Designer Coffee Mugs
Handmade Coffee Mugs