Pass The Maple Syrup, Please
Cup Noodles Just Dropped A Breakfast Ramen With All The Flavors Of A Classic Morning Meal
Straight off Buddy the Elf's menu.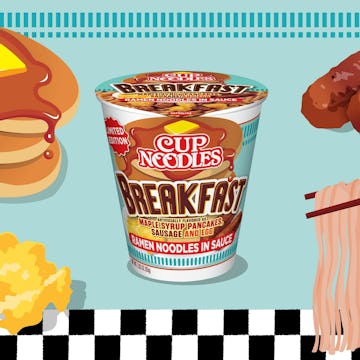 Nissin Foods
Every idea can't be a good idea. Some have to be bad. And others, well... other ideas are great. Take, for instance, Cup Noodles' newest flavor of ramen, simply called "Breakfast." Taking a page straight from Buddy the Elf's playbook, the iconic brand's flavor scientists found a way to infuse those classic freeze-dried carbs with the essence of sausage, egg, and pancakes doused in syrup. Why should dinner flavors have all the noodle fun?
Don't cringe — it's not as strange as you think. We all love to claim we eat "healthy breakfasts," but you know you've eaten noodles for breakfast before. Who's not down for some leftover pad Thai first thing in the morning, cold and right out of the takeout carton? Honestly, Cup Noodles' new entry into the world of easy breakfast foods is offbeat but doesn't sound half bad. According to CNN, the sweet and savory cup is a "soup-based ramen" that "mixes together the flavors of sausage, maple syrup pancakes and eggs in a saucy texture designed to come to life with water." Moreover, for those needing a little texture, Cup Noodles promises the breakfast ramen will contain "visible ingredients" like sausage and egg.
"The wacky mix of ingredients is on brand for Cup Noodles, which often fuses traditional noodles with local flavors that it thinks will be appealing to consumers," Neil Saunders, an analyst at GlobalData Retail, told CNN. Later adding that Americans "will be more interested in sweet flavors they associate with traditional breakfasts."
Admittedly, yes. If it tastes like maple syrup, we're in.
Cup Noodles encourages brave buyers to customize their cups. Their suggestions are hot sauce, more syrup, or rice. A few more ideas?
Of course, the biggest appeal of Cup Noodles' products has always been price and ease. Cup Noodles' Breakfast cup will sell for $1.19 and takes roughly four minutes in the microwave. Once you start adding more ingredients, the cost obviously increases — and the effort to make it does, too. Still, it's bound to be faster and cheaper than many other breakfast options out there.
Will Cup Noodles' Breakfast be a winner and become a staple in your home? The new product will roll out at select Walmart stores nationwide and online at Walmart.com starting March 29. You won't know if you love or hate it until you try it.
More Quick and Easy Breakfasts
Need some easy breakfast options that are, uh, less adventurous? These old stand-bys are also great options on busy mornings:
Pop Tarts
Toaster Strudels
Just Crack An Egg
Cereal (There are thousands of options.)
Frozen breakfast bowls (they're more expensive, but they feel somewhat better for you)
Oatmeal
Frozen breakfast burritos
And, if you want more variety, there's always the option to meal prep breakfasts on the weekend. You can't go wrong with "breakfastables" or sheet pan pancakes.