Warning: Disney's Huge New Deals On Kids' Tickets May Make You Book A Trip Immediately
This is your sign to book a 2024 family trip to the Disney Parks.
by Morgan Flaherty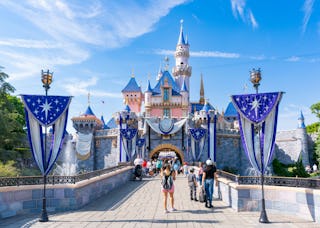 AaronP/Bauer-Griffin/Getty Images
If you've been toying with the idea of booking a Disney World or Disneyland vacation with the family next year, this may be your sign to go for it. Next year is set to be a pretty big one for each of the parks. Over at Disney World, the Disney Dining Plan will be returning in January, and the new Tiana's Bayou Adventure will be opening at both Disney World and Disneyland in late 2024.
And for early 2024 trips, Disney just announced a huge offer on kids' tickets at both Disney World and Disneyland that you're going to want to know.
Disneyland Kids' Ticket Offer
Disneyland Resort will offer a limited-time kids' special ticket for kids aged 3 to 9 (kids under three don't require a ticket). Starting Oct. 24, you can purchase a kid's ticket to Disneyland for as low as $50 per child per day. That's a BIG discount!
You'll be able to choose from one-, two-, or three-day park tickets that are valid for use from Jan. 8 to Mar. 10, 2024. After you use your first ticket, it will be valid for 13 days after the first day of use, or until Mar. 10, 2024 (whichever comes first).
While Disney has not released all pricing yet, they did share an example of a one-day ticket for one park priced at $50 per day. For comparison, a full-price one-day, one-park ticket for kids starts at $104 for low-demand days, ranging anywhere up to $169 per day for weekends and more popular dates.
When the deal becomes available, you'll also have the option to add on a Park Hopper option or Disney Genie+ service for an additional cost. You can book this special deal when it opens up on Oct. 24.
Walt Disney World Kids' Ticket and Dining Offer
Disney World will also be offering a special deal on kids' tickets and dining for 2024. Beginning Nov. 14, 2023, Disney World will introduce a special package for families looking to book their spring 2024 vacation.
Kids' theme park tickets (for ages 3 to 9) and Disney Dining Plans will be half off when you buy a non-discounted four-night, four-day vacation package for you and your children. The package will include a room at a Disney World hotel, as well as the Disney Dining Plan.
The Disney Dining Plan is a fan-favorite service that will make its highly anticipated return in early 2024. The dining plans work as pre-paid dining, allowing you to purchase dining credits that you can then use for certain meals at quick service and table service dining throughout Disney World.
The limited-time deal will be valid on most stays from Mar. 3 to June 30, 2024, making this a great option to take advantage of for families looking to book a trip in spring or early summer 2024. Bookings for this new offer will open up on Nov. 14 and can be completed through the Walt Disney World website or your preferred travel agent.