55 Dog Instagram Captions For Your Cutest Pooch Pics
Because you woof them so much.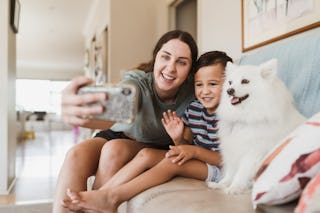 Nazar_ab/Getty Images
You did it — you finally captured the most adorable image of the family dog in between the constant running, licking, eating, and cuddling sessions. Maybe you even got them to look right at the camera, thanks to a treat near the lens. There's only one thing left to do: Throw it on the 'gram. Seriously, social media could use more happiness, so you're doing everyone a favor by showing off your fur baby. And pics of your fur baby with your actual babies? It's the stuff your long-distance relatives live to see.
So, now you're racking your brain for an Instagram caption fit for your family's four-legged bestie. You'll find plenty of inspiration right here. This list of cute quotes and punny phrases from both your and your dog's perspective will help commemorate your special bond. Don't be surprised if you find yourself taking more pupper photos just to use all of these captions!
Man's best friend for life.
Loves of my life right here.
Still letting this one live rent-free.
"My little dog — a heartbeat at my feet." — Edith Wharton
Puppy cuddles >>>
My fur child.
Dog mom for life.
I think my heart is paw-shaped.
Warning: You may fall in love with me.
Half of my closet is sweaters, and by sweaters, I mean shirts covered in dog hair.
I woof you 🤎
Be the person your dog thinks you are.
Getting a dog really changes everything — like, your whole day revolves around this one's bowel movements.
Move over, Lassie; there's a new pup in town!
Hey, dawg.
The goodest of boys/girls.
My love language is tail wags of affirmation.
Throw me a bone, why don't ya? 🦴
Life is ruff, am I right?
We're having a tail-wagging good time!
Eat, sleep, cuddle, repeat.
"What do dogs do on their day off? Can't lie around — that's their job." — George Carlin
Only requirement to be my friend: Must love dogs.
My best friend has a wet nose, a tail, and four furry legs.
Please take a ~paws~ and look at this adorable creature 🐾
Life's a ball with this one 🎾
I live for the simple things: waking my humans up at the crack of dawn, chasing the mailman, barking at nothing, and eating everything.
And Bingo was his name-O!
I have one look: 👁👅👁
Life is totally paw-some!
"Everyone thinks they have the best dog. And none of them are wrong." — W.R. Purche
Mondays are ruff.
So clingy 🐶
Seriously, when will this guy get a job?
Little dog, big piece of my heart.
The ruler of my universe, TBH 🐕
I invented the meaning of the phrase "puppy love."
*Insert high-pitched dog voice*
I keep telling her that I'm the good boi, but she keeps asking who it is anyway…?
My love for you is fur-real.
Who rescued who?
The only one I'll let take up more than half the bed.
The pup-arazzi can't get enough of me.
I have the best paw-rent a pup could ask for.
It's hard to believe looking at me, but I'm bad to the bone.
Whoever let the dogs out, I'm most grateful.
The sign is true — you need to beware of me because I'm fur-ocious.
Paws-itively exhausted over here.
Dog hair is my go-to accessory.
What's all this about booping my nose?
All I need in this life is my human's cuddles and some Pupperoni.
Dogs > cats. I said what I said.
VIP: Very Important Pupper.
I don't always bark in the middle of the night, but when I do, it's usually at nothing.
"The world would be a nicer place if everyone had the ability to love as unconditionally as a dog." — M.K. Clinton