20 Cute Fall Cardigans To Get You (Even More) Excited For Autumn Weather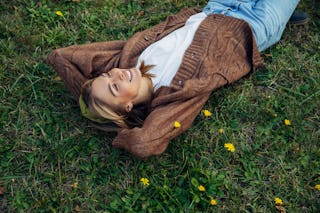 CoffeeAndMilk/E+/Getty Images
Pumpkin spice products are rolling out. Fall TV promos herald the return of peak premiere season. And everywhere you look, stores are already hyping dropping temps as an excuse to roll out cooler-temp clothes. So, whether or not you live in a place where there's true autumn weather, the marketing gods have spoken: It's fall. Which means you may be feeling the uncontrollable urge to shop for some cute fall cardigans to wear while you eat your Pumpkin Spice Goldfish and watch the new season of Grey's Anatomy. And we've got you covered (literally and figurately) with a list of some of the best women's cardigans available on Amazon.
Bonus? They're almost all under $35 and range from light layering options to heavier knits you'll want to wear while falling asleep on the couch. Preferably with a steaming mug of apple cider.
Even if your hometown stays warm all year, you may want to grab some of these anyway... many are light enough to keep in your bag in case you encounter some especially aggressive AC.
We may receive a portion of sales if you purchase a product through a link in this article.
There you have it: 20 of the best women's cardigans on Amazon, for work, play, and everything (autumnal) in between. Let your fall festivities begin.