Zaxby's, Carvel, & More Are All Offering Fast Food Deals This Father's Day
Skip the tie. What dad really wants are free loaded fries this Father's Day.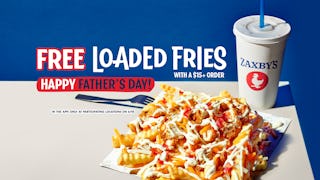 Zaxby's
Choosing the perfect gift for Father's Day can be tricky. Some dads are happy with a handmade card and an old standby like a new watch, while others would prefer the latest video game (and at least five hours of free time to break it in). But the great equalizer among all dads — and people in general — is food. If you're stuck on what to get your partner this Father's Day, head to one of these fast food places encouraging families to treat Dad to something tasty this Sunday, June 18.
This weekend, chains like Zaxby's, White Castle, and Carvel are giving families the perfect excuse to take their favorite father or father figure out for a quick bite to celebrate Father's Day. From freebies to deep discounts, your favorite fast food establishments are stepping up to offer Dad yummy meals and sweet treats on his special day.
Whether you're hitting the road for a Father's Day trip or planning on ordering in, you should take advantage of these deals while you can — especially if the father figure in your life always chooses fries over ties.
Where can dads score fast food freebies and deals for Father's Day 2023?
Father's Day is primetime for fast food restaurants to offer special deals for families looking for last-minute gifts. This year is no different. Some places, like Zaxby's, offer actual freebies, while others serve up deep discounts that make getting dressed on a Sunday to go out to eat totally worth the effort. (Offers may vary by location, so it doesn't hurt to call ahead to make sure your local franchise participates in these deals.)
BJ's Restaurant & Brewhouse: From Tuesday-Sunday, you can nab Dad the pizza deal of his dreams when you order online. Use the code HALFOFF to get 50% off any large Deep Dish or Tavern-Cut Pizza.
California Pizza Kitchen: If you dine in this Saturday or Sunday, you can treat Dad to a whole pizza and draft beer for just $22. You can choose the Original BBQ Chicken, Pepperoni, Mushroom Pepperoni Sausage, or Sicilian pizzas, and either Blue Moon or Sam Adams to drink.
Carvel: Want to get Dad a last-minute cake? Carval has you covered. You can get $5 off Fudgie the Whale Cakes on DoorDash, Grubhub, and Uber Eats from June 12-25.
Fazoli's: Spend $10 at Fazoli's this weekend and get five boneless wings for free.
Jollibee: From now through Sunday, customers can get $5 off Jollibee's Bucket Treats when they order through the app or website and use the code TREATDAD.
Pieology Pizzeria: When you order a thin-crust Pieology pizza online, you can use the code DAD23 at checkout to score a second pizza at half-off. Ordering before Father's Day? Use SUMMERBOGO instead.
Round Table Pizza: Whether you decide to order online, grab takeout, or dine in, you can get a 15% discount on your order this Father's Day.
Shake Shack: From now until July 31, Shake Shack is running a buy one get one free promotion on shakes when you order between 2 p.m. and 5 p.m.
TCBY: Treat dad to some free fro-yo by heading to TCBY on Father's Day. The fro-yo chain is offering the first six ounces of frozen yogurt for free this Sunday.
Wendy's: From June 12 to June 18, Wendy's is offering a free Crispy Chicken Sandwich with any purchase of $5 or more.
White Castle: Show this coupon, and you can get a free dessert on a stick with any purchase from June 16-18.
Zaxby's: Use the Zaxby's app to order a meal for Dad on June 18, and you'll get a free order of Chicken Bacon Ranch Loaded Fries when you spend $15 or more.
Go forth and get Dad some food this Father's Day... he'll cherish a trip to Shake Shack just as much as any card you grab from the drugstore.