20 Unique Father's Day Gift Ideas That Have Nothing To Do With Grilling
Give the father figure in your life something he'll actually use.
by Amber Guetebier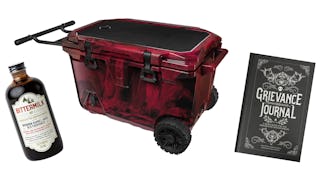 Amazon/Brumate/Boredwalk
We may receive a portion of sales if you purchase a product through a link in this article.
Father's Day is upon us, and if you're still at a loss for what to buy for the dad or father figures in your life, you're not alone! Giving the family patriarch a useful gift he'll actually love isn't always easy — no one wants to get the dreaded, "Thanks... this sure is something." Fortunately, unique Father's Day gift ideas as legendary as dear ol' Dad do exist.
And no, this list does not contain BBQ sauce or grilling tools (not that there's anything wrong with those). This year, think outside the box to give Dad a gift that, well, really *is* something. There's nothing dads love more than an opportunity to show off a cool or kitschy present that came from the people they love most. Exhibit A: That "World's Best Dad" mug he keeps on his desk like a trophy.
So, keep scrolling for gift ideas — from steals all the way up to splurges — that all kinds of dads, stepdads, and father figures are sure to love. And hey, if it arrives a few days after the holiday, don't stress... as Dad would say, "It's the thought that counts."
If you didn't find the right item on this list, don't forget Costco just released a four-pound lemon meringue cheesecake that might do the trick.