40 Practical Gifts Any Dad (Even The Impossible To Shop For Ones) Would Love
These gifts are clever, practical, and under $35 — perfect for dads who "don't want anything."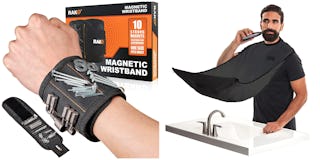 Amazon
Who wouldn't want to receive a present that comes with a bit of recognition? Such is the brilliance of great Father's Day gifts. But ask a parent, "What do you want?" and, chances are, they'll name things that can't be bought or wrapped — like sleep, sanity, a minute of alone time, etc. This makes shopping for Father's Day a royal pain in the butt. You can send him off to a baseball game and make his favorite dinner, but what can you put in a gift bag? How do you find something he doesn't even know he needs? Whether you need gifts for dads who have everything or gifts for dads who don't want anything (or so they say), the hunt can feel a lot like looking for the Holy Grail.
Fortunately, this isn't a quest you must endure alone. The following massive roundup of gifts for Dad has your back. Utilitarian items, personal care necessities, bougie buys, fun and games — you'll find something for all the men in your life. Bonus: You've probably also been eyeballing some of these, so if you share a roof with the guy getting the gift, you get to enjoy it as well (cough, skin-smoothing brush, cough). And since they're all affordable at under $35, you can spring for more than one if you feel so inclined.
So, keep reading, and get ready to load up your digital cart. These cheap but seriously useful items will have Dad saying "thanks" — and really meaning it.
We only include products that have been independently selected by Scary Mommy's editorial team. However, we may receive a portion of sales if you purchase a product through a link in this article.