Google Maps Is Unveiling Tons Of Cool New Features To Navigate National Parks
And they are all dropping in time for National Park Week.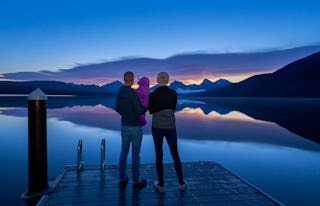 Bkamprath/E+/Getty Images
Google Maps can be a great resource when you're on a road trip or navigating a new city. But most travelers know that until now, it's been less than helpful when you and your family are trying to see the sights at national parks. Finding trailheads is hard (and staying on trails is even harder) while a lack of cell service can literally leave you up a creek.
But all of that is about to change. Google has announced that a ton of new features will roll out this month, just in time to celebrate National Park Week and Earth Day.
"After visiting 24 of the 63 U.S. national parks, I know how rewarding it can be to explore the outdoors — whether it's getting out into nature with my kids or soaking up stunning views on long hikes with friends. After all these trips, I'm also all too familiar with some of the challenges that come with planning outdoor adventures — like finding the best trailheads or nearest public bathrooms," wrote product manager Michael Curtis in a Google blog post. "This month, four new updates are coming to Google Maps on iOS and Android to help you find the information you need when you head to a national park — all in one place."
The biggest and most-wished-for new feature is a trail map improvements and more precise locations: Google Maps will now make it easier to bike, walk, or drive to trailheads with clear directions, and the trails themselves will be visible from beginning to end (before now, it just shows a pin at the trailhead).
The update also tackles the issues of less-than-reliable cell service in many parks. Now, you can download a map of any national park that you can pull up even when you don't have a signal.
In addition, the app will include visuals of some of the most notable spots in each park (including visitor centers, attractions, campgrounds, and public rest rooms), reviews of hikes and lookouts, and lots of information about trails, such as difficulty level.
Most of these features should be up and running by the beginning of National Park Week on April 22 — also a day that the over 400 national park sites will be free to all.
While all of the above updates will be available for U.S. National Parks by the end of April, Google says it will slowly roll out similar features for parks around the world next. So cool!