7 Comfy & Cute Hair Ties That Look Like Bracelets For Double-Duty Fashion
TFW you always know where to find a hair tie.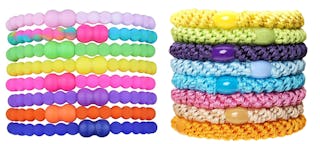 Amazon
Hair ties are kind of like socks — you buy a bunch of them, and slowly but surely, they get sucked into another dimension, never to be seen again. There is, however, a remedy that can delay this inevitable hair tie disappearing act: hair ties that look like bracelets.
As my kids started school a few years ago, I was pleased to see that wearing hair ties on your wrist like bracelets — both functional and fashionable — is not a trend that had come and gone with my youth but rather that it was still a thriving practice, alive and well. In fact, hair ties have gotten a lot cuter since I was a kid, and there's a lot more variety for all different types of hair and styling needs.
If you're looking for hair ties that your kiddos can wear both in their hair and on their wrists for safe-keeping/fashion as they head back to school, take a look at this roundup of highly-rated and versatile products we found on Amazon. You might just find yourself wearing them, too... no judgment.
We may receive a portion of sales if you purchase a product through a link in this article.