This Clever Hack For Too-Short Sweaters Will Keep Your Leggings Game Strong
Give your millennial emotional support cami a rest.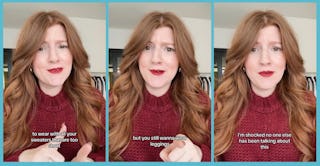 @littleredfashionhood/TikTok
We may receive a portion of sales if you purchase a product through a link in this article.
You'll try any fashion trend once... maybe even twice. You can even get on board with occasionally wearing the oh-so-impractical wide-legged pants, and you're open to ~occassionally~ slipping out in something other than your trusty flip-flops. But these style-judging-Gen-Z kids will never (NEVER!) pry away our beloved leggings-and-sweater combo — especially in the fall.
There's just one major problem: Everything is f*cking cropped! Some of you might have recently re-embraced the crop top trend and agreed to show an inch of upper abdomen on hot days in the summer. However, that's just not always practical in the fall or winter. So, how do you literally extend your leggings and a top wardrobe into the cooler months when every new sweater you try on seems to stop just below the band of your bra? One TikTok mom found the perfect solution: the "half-shirt."
Like "jeans and a nice shirt," the sweater-and-leggings combo stands the test of time. It's comfy and, if you do it right, super cute. You can pair your leggings with heels, sneaks, or even slide 'em down into your favorite boots or booties. Leggings-as-pants are the gift that keeps on giving, and a good sweater is what takes a pair of black leggings from "athleisure" to a night on the town or a family photo shoot-worthy outfit. So, if you plan on living in this look for the next six months (same, girl, same), you'll need non-cropped top options.
Enter the half-shirt. This little wardrobe genius basically looks like the bottom half of a button-down shirt and comes with an elastic waistband. You wear it around your waist or at your bra band, and it hangs below your sweater to extend the length. Honestly, if you can find it thick enough, it could potentially even work as a cute mini skirt!
If the concept seems familiar, it's because it's sort of a "reverse dickey." Remember those? Your grandmother probably had dickeys that looked like turtlenecks or the collars of button-down shirts. She wore them under any shirt or dress deemed "too low." The necks were usually attached to a flap that hung down to about the top of her bra. It helped keep her neck warm or give her a sense of modesty.
Now, after decades of sitting in storage, the dickey companies finally found use for all the bottom halves of those shirts.* It's conscious consumerism, y'all! (*This is a joke. You know they just tossed the bottom halves of shirts into landfills.**) (**This is also a joke.)
Of course, this isn't the first time we millennials have turned to a solution for extending the length of our shirts. Remember when we all wore lace-trimmed camisoles under our shirts? They extended the length and, if you were lucky, let a little bit of lace pop out of the top of low-cut shirts, too. It was cute. Maybe even sexy?! Alas, it was hot AF to walk around in the middle of summer with a cami on under a shirt. They both ended up needing to be washed, thereby doubling laundry duty.
Unless you're clumsy, this TikTok-approved half-shirt could easily be worn a few times before each wash. And, you know, button-downs make everything seem dressier, right?
It may not be the perfect solution — who over the age of 25 doesn't want to cover their fupa at least sometimes? — but until the cropped-everything trend passes, these Amazon half shirts will save you a lot of tugging and pulling. That way, when you buy a cute cropped sweater, at least it won't end up stretched out of shape.