Hanna Andersson's New Resale Program Is Perfect For Offloading Your Kids' Outgrown Threads
Say hello to "Hanna-Me-Downs."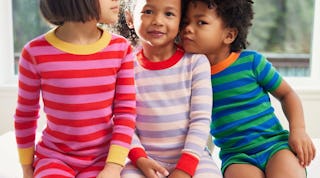 Hanna Andersson
Kids need so many damn clothes: school clothes, play clothes, special occasion clothes, summer clothes, winter clothes. It costs a fortune to clothe a child, and they grow out of things faster than seems possible. If you're on a budget (aren't we all?), keeping your kids in decent-condition clothes (let alone cute ones!) can be a big stressor. Luckily, more and more kids' clothing companies are joining the effort to keep clothes affordable for parents. For example, did you know beloved, boldly colored "boutique brand" Hanna Andersson now offers a resale program for gently used kids' clothes? Called Hanna-Me-Downs, it puts cash — or store credit — in parents' hands almost as fast as your kid grows out of those cute duds.
You've probably already caught wind of certain retailers' impressive return policies. Target's has gone viral more than once this year alone. Costco's has its own cult following. But Hanna-Me-Downs differs from Hanna Andersson's standard return policy: It allows you to make a little money back on the clothes you can no longer return or exchange.
Passing along clothes isn't just good for your budget; it's good for the environment. So, keep reading if you're wondering how the Hanna-Me-Downs program works and what kind of financial return you can expect.
How does the Hanna-Me-Downs system work?
Y'all, it's so easy.
Sign up for an account.
Find clothes your kids have grown out of and search Hanna's database for the style ID on the tag. (Or search for the product name.)
Find your product, answer questions about the condition of the clothing, snap a couple of pics, and list your item for whatever price you like. (Hanna will suggest a price to help you out.)
Once someone selects your item, you'll receive an email to print out a free shipping label and packing slip.
Put the clean item in a shipping sleeve, envelope, or box, attach the label, and send it to its new owner.
OK, but how much will you make off this program?
Admittedly, you won't make back as much of your purchase price as you do when you return your Cat & Jack for a full-price credit. However, you will make significantly more than if you took the clothes to a consignment shop, donated them, or tossed them. Hanna's website says products sell for about half their original price. From there, you get a percentage of that Hanna-Me-Downs price.
You'll get 70% of your sale price if you ask for a cash payout.
You'll get 125% of your sale price if you ask for store credit.
What other kids' clothing stores do this?
Are you inspired to buy and sell more previously loved clothes? Sweet! Hanna Andersson isn't the first or only store to offer resell options. The Hanna-Me-Downs program is a great first stop, but your child doesn't need to dress like a walking Hanna Andersson billboard for you to take advantage of clothing buyback and resell options.
A few similar programs include:
Why resell, and why buy hand-me-downs?
Why do hand-me-downs get a bad rap? Our moms and grandmas (and dads and grandpas) practically only ever got clothes from older siblings and cousins. When people made more of their own clothes, it took too long to sew something new every time you needed a fresh outfit. Somewhere along the way, the clothes-making process became more efficient, and consumers became way more concerned about wearing new clothes.
Enter fast fashion: cute and trendy clothes that aren't meant to last a lifetime. Once that crop top shrinks even shorter, or those mostly lycra "jeans" wear thin in the crotch? They find themselves in landfills, adding to the litter and pollution gunking up our world. Hand-me-downs won't solve that problem, but every little bit helps. And, of course, it is a lot easier on your wallet. (So, hopefully, it — or what's in it — will last a little longer, too.)