High School Seniors Pull The Ultimate Prank On Their Principal & Spend The Night At Her House
"I was in shock. They were in every possible corner like sardines."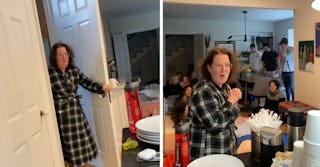 Instagram / St. Andrew's School
School is wrapping up and that means senior classes all over the country are gearing up to pull off the long tradition of a senior class prank.
While some pranks have remained pretty basic like petroleum jelly on doorknobs or goldfish in the swimming pool, one school in Delaware had a different idea. Why not crash at the principal's house and have a massive, silent sleepover?
The epic prank took place last month by the graduating class at St. Andrews school in Middletown, Delaware.
In an Instagram video, St. Andrews principal Joy McGrath opens a door to her kitchen, clad in a bathrobe and yellow Crocs, and quickly discovers a pile of students camped out on her floor.
McGrath's jaw drops saying, "Oh my god" and quickly closes the door. The surprised woman seemingly collects herself before opening the door again to say hello to her students with a smile.
"I was in shock. They were in every possible corner like sardines," McGrath told TODAY.com. "It took me a second to realize, 'This is a senior prank!'"
When McGrath opens the door, for the second time, she says, "Good morning, little bunnies!" as the class of 2023 erupts into laughter.
The epic prank couldn't have been pulled off without the help of McGrath's husband, Ty Jones, who was in on the whole thing and left the front door unlocked so the kids could sneak in.
KaiChun "Austin" Chuang filmed the pranked principal's reaction and told TODAY.com that he and his friends came up with the idea during a post-prom brainstorming session.
"Mrs. McGrath invited all of us over for breakfast at like 12 a.m.," Chuang, 18, recalls. "Someone joked that they wouldn't mind going to bed right there in the living room. Then a couple of us glanced at each other like, 'hmmmm.'"
After getting the help from McGrath's husband and recruiting over 80 kids, the prank plan was in motion. The students were amazed that McGrath didn't wake up when they all filed into her kitchen around 1 a.m. the night before.
"I can sleep through anything," McGrath says.
Before giving McGrath back her house, the seniors had breakfast and coffee with the principal and her husband.
"Mrs. McGrath takes such good care of us," Chuang says. "Whenever people have a problem, they feel comfortable talking to her. She works hard to build trust."
The video soon went viral with over 1 million views and several Instagram users commenting on the moment.
"I'm really glad she has a robe on. I definitely don't fix my morning coffee in a robe and crocks," one user wrote.
Another said, "And this is how you know that the teacher had a positive impact on her students. I love this👏❤️"
"This is the teacher they will be still talking about in 40 years. Cheers to her!👏" one wrote.