I Can't Freaking Wait For SATC's New Season
What makes me sad is that the actresses are taking heat for EXACTLY what I love about this show.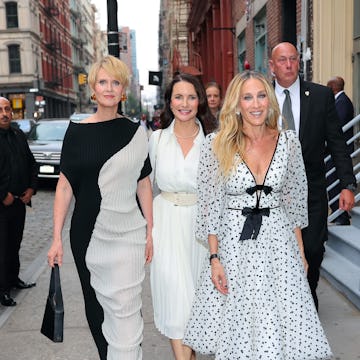 Jose Perez/Bauer-Griffin/GC Images/Getty Images
I'm an almost 50-year-old woman with three teenagers, and I still get so excited when I catch reruns of Sex And The City. I've seen every movie and the reboot, And Just Like That... In fact, I binge watched the entire first season this past Sunday and it helped pull me out of a fog I'd been sitting in for a few months. What makes me sad is that the actresses are taking heat for EXACTLY what I love about this show.
Recently, while poking around for the premiere date of season 2 — June 22nd on Max, people! — I read a piece that made me blind with rage. Sarah Jessica Parker told Vogue: "There's so much misogynist chatter in response to us that would never. Happen. About. A. Man," in regards to the way the cast, Carrie (Parker), Miranda (Cynthia Nixon) and Charlotte (Kristin Davis), had aged. Parker added the criticism on social media was especially horrible, with many people commenting on the fact that the cast of women had gray hair and wrinkles.
Apparently, you're supposed to tuck yourself away never to be seen again when silver hair starts sprouting and your laugh lines become permanent, according to some assholes who don't know that's what happens when you get older. And we all know if an actress gets work done — anything from a boob job to some Botox — she'd be criticized for that too.
In my own personal circle, a man said that he no longer was interested in watching the show because the "women had aged and it wasn't as…interesting to watch." This man was in his 50s and if you ask me, he wasn't that interesting to watch either.
Even if I had never been a fan of the show, comments like this would have rubbed me the wrong way. It's another message from society that women have an expiration date. That after they have a certain amount of birthdays, they aren't relevant anymore. That being sexual and having a life outside of caring for children, older parents, and knitting on the sofa isn't something anyone wants to see. That they aren't supposed to age, and if they do they should hide. But also, if they do anything to keep their youthful appearance they are trying too hard, are desperate, and should just give up because they are making other women feel like they aren't supposed to age.
Like, there's no answer. No way to please everyone. Some might say that's what you sign up for when you want to star in a television show that has so much success, everyone wants more and it spans over decades. But nobody signs up for constant judgment of their appearance.
I love seeing women change and age. And I know if I was in my twenties I'd still love seeing these older women living their life and moving on after failed relationships even if it is a fictional show because it sends the message there is still so much life to live in your second phase of life.
So, I will count down the days until June 22 when Season 2 of And Just Like That will join me in my living room after I kick my entire family out of my house. I know a lot of other women will be with me.
Despite what some people are saying, most of us want to see women getting on with life regardless of our hair color or the texture of our skin.
SATC is a reminder you can still have great sex, wear whatever the hell you want, and get through no matter what life throws at you. Because, Just Like That, women are caring less and less about misogynistic comments.
Hopefully the people who make them will catch on soon.
Katie lives in Maine with her three kids, two ducks, and a Goldendoodle. When she's not writing, she's reading, at the gym, redecorating her home, or spending too much money online.