5 Illnesses Parents Actually Aren't Likely To Catch From Their Kids
A pediatric doctor explains why adults probably won't catch these, plus tips for making this sick season less hellish.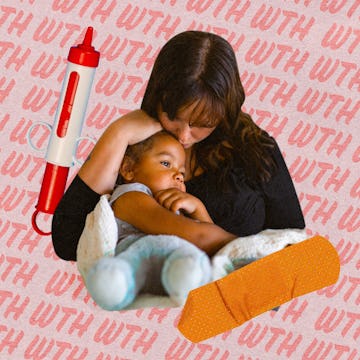 WTH?! (What The Health?!) is a Scary Mommy series answering health questions relevant to moms and women that we don't talk about enough. Think: "What is this weird pregnancy symptom? WTF is happening to me postpartum? Are these signs of perimenopause?" Let's normalize these and other women's health issues by talking about them more in a relatable, less clinical, and no-BS way.
"Just wait until she starts daycare or school… you'll all be sick all of the time," my friends warned me when I was a new mom. And they weren't kidding. Last fall, when my daughter started daycare, she was sick pretty much every other week with a variety of illnesses: COVID, RSV, strep, croup, norovirus, and hand-foot-and-mouth disease, just to name a few. My husband and I were, of course, also sick a lot last year, and some illnesses completely knocked us down.
"A lot of times, if we do end up catching the flu or whatever bug [our kids] have, we are sick as dogs... we're having a hard time getting out of bed. And we give them a dose of Tylenol, and they're literally running around the house," says Dr. Meghan Martin, a pediatric emergency medicine physician at Johns Hopkins All Children's Hospital and mom of four kids.
Yet, as my husband and I also experienced, there were some sicknesses that just didn't hit as hard as they did our daughter — or at all. Scary Mommy talked to Dr. Martin about some of the illnesses that parents actually aren't likely to catch from their kids, why that is, and what you can do to make this sick season less hellish.
You probably won't catch these from your kids (thankfully!). But if you do, they'll most likely be mild.
*While adults are less likely to catch these illnesses or may experience milder symptoms, adults who are immunocompromised are more at risk for getting sicker from these infections.
Don't underestimate the strategies we've relied on for staying healthy during COVID over the past couple of years.
These are incredibly effective for preventing the spread of other illnesses, too:
Wash your hands frequently, especially after going to the bathroom or changing a diaper.
Get the yearly flu vaccine and the COVID-19 booster. (There is also now an RSV vaccine available for adults over 60 and an RSV preventative treatment available for kids under 2.)
If someone is sick in the house, clean with bleach and wash sheets with the hottest water possible.
Consider wearing a mask when you're in big groups to protect from infected droplets.
The good news: Before you know it, it will be summer again, and you'll get a break from the constant germs and weekly pediatrician visits. (At least that's what my husband and I keep telling ourselves.)
Read our other WTH articles:
What No One Tells You About Peeing After Having Kids
All The Surprising Ways Your Periods Change In Your 40s
The Most Common Age Perimenopause Starts, & What You Can Do To Prepare
Why Does My Mouth Feel Like It's Burning All The Time? Might Be Perimenopause!