15 Jewelry Boxes & Organizers Under $30 For Storing All Your Treasures
Cute storage solutions for your rings, necklaces, bracelets, and more.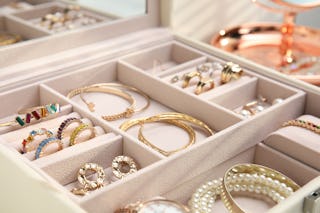 Shutterstock
Maybe you're looking for a gift, trying to organize everything in your own house... or maybe you've just learned the hard way that no one has time to untangle some mixed-up necklaces. (Seriously, how does jewelry get so hopelessly entwined when you haven't even touched it?!) No matter the reason, you can find a good, relatively inexpensive solution here. The 15 jewelry boxes and other jewelry organizers on this list have a variety of different designs but one key thing in common: They're all under $30 — and available on Amazon.
If you've been on the hunt for the perfect jewelry storage solution for a while, you understand that this sort of organization comes in many, many shapes and styles. There are classic stationary boxes, and there are travel options. There are jewelry boxes with vintage appeal and sleek organizers that suit a more modern aesthetic. There are even jewelry trees and shelves. This list of jewelry boxes and organizers represents some of the highest-rated, most reviewed, and downright raved-about picks in each category.
So, here's to never having to spend the evening doing surgery on two necklace chains again.
We may receive a portion of sales if you purchase a product through a link in this article.
The good news about a sudden enthusiasm for organizing your jewelry is that — most likely — your sparkling collection is less extensive and easier to sort than your full closet or pantry. So pick out one of these jewelry boxes or organizers, and it won't be long before you can admire your handiwork. Of course, these also make great gifts for people who love jewelry... or just being very neat.