9 Jewelry Kits That'll Let Your Kid Get Their Bling On
It's always fun to make a bracelet for your BFF.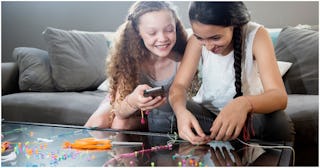 Getty Images / The Good Brigade
We may receive a portion of sales if you purchase a product through a link in this article.
Why oh why didn't they have jewelry kits for kids when we were young? (And the ones that were available weren't this good.) Think of all that time spent in the craft store with Mom trying to find all of the cording, beads, and tools. It took forever to find all the right stuff, and then we had to wait an eternity for Mom to finish shopping before we could get home and get crafting. But thankfully, companies have gotten a clue and taken some of the guesswork and legwork out of the shopping experience. Like other art or craft kits, bracelet and jewelry-making kits are foolproof and awesome for kids of all ages. Even better, it's an activity that can be done independently or with others (and you know your kiddo will love making matching BFF jewelry with their bestie).
Related: Your Backyard Will Need These Inflatable Water Slides This Summer
Creating jewelry or wearable art provides them with an outlet for positive self-expression. It's a veritable right of passage really, right up there with camping trips and swim lessons. It's a craft that lasts well beyond the time it took to make because it can be worn with pride. Making jewelry for friends and family is also a way to connect and bond with others. For the younger set, making jewelry is a crafty way to develop fine motor skills, patience, and focus. Just note: Most jewelry-making sets contain small pieces and aren't suitable for toddlers under three.
If you're coming up with your summer bucket list of activities, check out these nine jewelry kits for kids that will keep them busy this summer — at least for a little while. Just don't forget to get your kiddo a jewelry box!
RELATED: 20 Best Friend Necklaces For Besties Of All Ages (Yep, Even Adults)
Best Bracelet Making Kits
A perfect blend of color and magical creatures awaits with this whimsical charm bracelet-making kit. Seriously, what could be better than this precious trifecta of unicorns, mermaids, and rainbows? The set comes with three necklace cords and two bracelets, perfect for besties. You don't need any tools for these — just the set is enough to create some fab jewelry.
One Reviewer Wrote: "I bought this charm bracelet-making kit for my granddaughter's 10th Birthday. She loved it so much she made each and every bracelet as soon as she had opened it. The beads are of good quality, as well as the bracelets. A great gift to entertain older children."
Get your kids this GILI friendship bracelet kit for all the nostalgia feels. These little plastic woven numbers have us middle school reminiscing—did you sit in the grass and make them during P.E., too? As with some things, the bracelet-making method got better with time; there are more cool ways to weave the thread — with styles like the bungee braid, DNA, and banana split — than ever before. (We're still figuring these new styles out, but they sound cool.) There's also an awesome loom kit that secures the threads for easy weaving (or the kids can go vintage style and hold them between the knees circa the 1990s). Step-by-step instructions with photos are included, and a drawstring bag contains the mess.
One Reviewer Wrote: "Got this for my niece as a gift. She was easily able to make several different bracelets. This is a great gift idea and it is very kid friendly."
Make their bead-tastic dreams come true with this jewelry-making kit by Fashion Angels. With more than 1,500 beads of every letter, number, and color of the rainbow, they'll be whipping up bracelets for friends for hours (hopefully). There's enough jewelry cord for at least 30 bracelets depending on wrist size and how snug they prefer the fit. Let them craft away the days, making accessories with their names, friends' names, favorite things, secret messages, and inside jokes. We're not sure how they'd feel about sharing, but there are enough beads to make it a family affair. When it comes to storage, thank heavens this thing comes with a case, otherwise, you'd be Dysoning up these little suckers for months.
One Reviewer Wrote: "There is a ton of beads and they are really pretty. My kids have absolutely loved it and spent tons of time making bracelets. They have been worth every cent."
It was only a matter of time before LEGO jumped on the jewelry-making bandwagon, and we're not upset. LEGO is perfect for bracelets, and they've really knocked it out of the park with this Disney set. Young fans of Mickey Mouse will love making and sharing these bracelets with their friends. Ideal for kiddos over the age of six, bracelets can be customized to best fit your child's personality. Planning a trip to Disney World or Disneyland in the near future? This kit might be a great way to announce that a big trip is ahead.
One Reviewer Wrote: "The Lego Dots sets are a little different from conventional Lego sets in that they don't really have step-by-step instructions to follow. Instead, they have pages with lots of different design ideas, allowing children - and adults - to express their own creativity and identity through their designs. We like that you can mix and match elements from several designs to create just the look you want, and the dots are easy to remove from the bracelets and rearrange into new designs whenever you want."
The loom for this bracelet-making kit looks a little wild, but don't let the photo fool you! This top-rated set includes a complete set of instructions. Once they make one bracelet, it's smooth sailing. The loom and pick tool keep the plastic threads tight and organized to maintain the design, and make using multiple colors a breeze. The loom makes rings too — just pay attention to the tight fit on small fingers (cutting off blood circulation is a mood ruiner). This kit comes with 600 latex-free rubber bands that will have your kids making bracelets all year long.
One Reviewer Wrote: " It says 8+ and I believe that the age range is on target. A very crafty 7-year-old can probably enjoy this too. You know your own kids. My 8-year-old son loves this. Wearing bracelets is all the rage at school and all the kids are wearing them, so that must have something to do with the desirability of this item. He's made some for his sister, dad, friends..."
Best Kids Jewelry Kits
Your little one will create some serious bling with this pop bead kit by Loyo. Full of bright colors, the beads easily snap together — no jewelry string or wire is needed, which is great for smaller hands that are still developing fine motor skills and dexterity. This is a jewelry kit that younger kids can do by themselves, hooray! (Supervised, of course, 'cause beads are still a choking hazard.) The kit includes more than 500 non-toxic beads in many shapes, two hair bands, five bracelet bases, and ten rings. The best thing about pop beads is their reusability—simply snap off the beads to create a whole new style. With this flexible jewelry-making set, they'll be sporting an arm party and filling up their jewelry boxes in no time. Cleanup is easy with its snap-latch plastic storage container.
One Reviewer Wrote: "My niece just celebrated her fourth birthday, and she's been getting into the whole princess thing -- which I figure is a great way to encourage some early skills in making our own favorite things! These beads are great for her age. We spent about an hour together learning how they stack together (mixing innies with outies) and how to support the beads so they snap together, and ever since then, she's been beading it up all on her own. It's great for her creativity and hand-eye development, and while you'd think all the little pieces might get lost, the carrying case they come in really does a good job of keeping it all together."
If they (or you) prefer something that isn't plastic, clay-based jewelry kits for kids make a great alternative. Tweens and teens can roll, shape, and cut polymer clay into their very own creations. The finished jewelry has a more upscale boutique-y look, something the older set will appreciate. The kit includes eight different clay colors that can be blended to create even more color combinations. Clay's just the beginning, as they can mix and match beads and charms to personalize. Older kids can obviously handle this craft on their own, but parental supervision's recommended when baking the clay in the oven. With enough supply for three bracelets and three necklaces, the kit should keep them busy for a couple of days.
One Reviewer Wrote: "This was such a fun gift for my tween daughter. She loved making her own beads and jewelry. The necklace material is super nice and heavy metal. Not a cheap jewelry kit at all. Good quality."
Wooden beads are excellent to work with, and your kids will agree. This bead set includes over 350 beads, including alphabet beads that'll help your child personalize jewelry for themselves, or their friends. One of the many benefits of the set is that it comes with pre-cut elastic cording, eliminating a big step in bracelet-making. With a 4.6 out of 5-star rating on Amazon, plenty of parents love the simplicity of this set.
One Reviewer Wrote: "This little jewelry-making set with ABC Beads by Horizon Group is the nicest I've had in this size and this price point. My kids have multiple vowels in their names and they've all been able to make name bracelets. We've used this for my youngest for color recognition, letter recognition, and hand-eye control."
A kids' jewelry set roundup wouldn't be complete without Elsa and Anna. Your kids will love making Frozen-inspired pieces for themselves and their BFFs. This is my daughter's absolute favorite jewelry-making set, and she especially loves the Elsa and Anna pendants and the purple and blue beads representing the two sisters. Snowflakes, hearts, and two half-heart best friend pendants round out the kit and are perfect for matching bestie necklaces or bracelets. Six feet of plastic cord has made two necklaces and two bracelets for my little one so far, and there's still enough for more. While there isn't a storage case for this set, the plastic heart container comes with a snug-fitting lid to keep everything organized.
One Reviewer Wrote: "Was a gift for my niece, she absolutely loved it. We played with these for hours. And she doesn't have a high attention span!"
This article was originally published on