Lance Bass Gets Really Candid About Having Toddler Twins
The NSYNC star and dad is entering new territory as his kids learn to walk, talk, and get into trouble.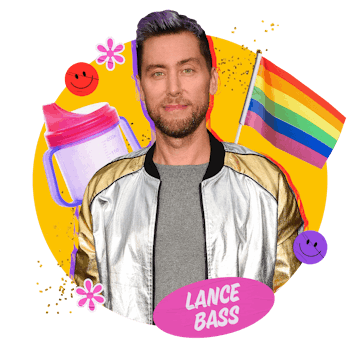 Ariela Basson/Scary Mommy; Getty Images, Shutterstock
Have you ever wondered if it was harder to survive being a member of a worldwide boy band sensation or to wrangle twin toddlers? Former teen heartthrob, gay activist, *NSYNC star, and new dad are here to tell you that they're both no joke.
Lance Bass married his boyfriend, painter and actor Michael Turchin, in 2015, and after a years-long fertility journey welcomed twins, Alexander and Violet, in 2021.
The twins are now 20 months old and at that terrifying age where they're mobile enough to get into a ton of trouble, but not developed enough to keep themselves safe. The milestones are flying by, and every day is a test of the baby-proofing you did when you were excepting.
"Oh my gosh. They're getting into everything," Bass told Scary Mommy during a recent Zoom interview. "You know, they've been running for a while now. They're climbing everything, knowing how to unlock doors, speaking like no other. So I mean, it's just every day I feel like something new is happening."
The chaotic parenting chapter inspired Bass to help Duracell with a PSA campaign about the dangers of lithium coin batteries, especially for toddlers who are around the twins' age. In fact, about 7,000 accidental battery ingestions happen each year, according to the National Battery Ingestion Hotline. And they can quickly become deadly.
"The biggest thing that concerns me is that they are getting into everything, especially my son. And he loves to take everything apart, especially remote controls. And that's why I'm so glad that I learned about the dangers of lithium coin batteries, which I had no clue about until a couple of weeks ago when Duracell wanted to do a PSA campaign with me warning other parents about the dangers of these things."
Duracell, which has released bitter-tasting coin batteries, is urging families to swap out their batteries for less tasty ones.
Once the safety talk is over, though, Bass wanted to talk all things twins, parenting, and pride, with a little news mixed in about his upcoming projects (hint: they all have to do with his new dad status). Here's what he had to say.
Scary Mommy: You mentioned they're talking up a storm — are they saying anything cute?
Lance Bass: Everything they say is cute. It's just so great. Anytime they watch any kind of television, it's always educational with different languages. So, it's funny to hear them say a word in Spanish or a word in Chinese and you're like, wait, where did you get that? They're really picking up so much, I can't imagine being that young surrounded by all these different languages, but apparently kids can absorb it all.
SM: Are their different personalities emerging more, now that they're almost two?
LB: Yes, for sure. He is just, 'Look at me, look at me, I need the attention,' being a stinker, just laughing — he never thinks he's wrong. No does not mean anything to him. He is just constantly trying to get in trouble and he knows it. He wants you to watch him get in trouble. And he just bugs the crap out of his little sister.
She's so opposite. She's the calm one, the one that's gonna be very studious. You can tell she loves getting in a corner and just reading a book by herself and just having her alone time. And he's the one that'll just go over there and just start like, pouring water on her head as she's reading the book. They're completely different human beings. But I think they'll balance each other out.
SM: You said recently that you haven't shared your pop music with your kids yet. But do you sing to them at all?
LB: I sing to them all the time; they're surrounded by music at all times. Especially my son. You can just tell he is bitten by the music bug. He dances, he actually knows how to keep the beat, which is nuts to me. He loves playing piano or any kind of instrument. But no, we've never listen to an *NSYNC song yet, which is weird. What's the thinking? There's no reasoning. I just haven't. I don't know why I have not played them a song yet.
SM: Do you ever wonder what it feels like to only have one baby at a time?
LB: I wonder that a lot. I wonder how much easier it will feel. The good thing is we did start with two, so I'll never know how much harder it was. And that's what my mother-in-law tells me all the time. Her kids are twins — my husband's a twin, he has a twin sister — and she's like, I didn't know any better. So it just seemed easy to me. But if I had one kid and then went to twins, I think I would've known how horrible that is and how much harder it is. I'm glad that we started with two because we'll just never understand.
SM: What do you think the challenges and the benefits are of having a two-dad household?
LB: It's definitely gonna make them more open-minded. As kids growing up in this world right now where same-sex relationships are finally — I know they've had kids for decades now — but something's in the zeitgeist right now that the LGBT community is really loving to start families.
I grew up in Mississippi, always dreaming of a family. And then, you know, you start to realize, wait, I'm gay, and then you're told you can't have a family. And then you start fooling yourself into thinking, okay, I'm not supposed to have kids. And then you realize, well, that's stupid.
I think we're all just realizing as a community that we can have that family we always dreamt about. I think just being in an LGBT family, they're gonna just be more privy and aware of the world's problems and open-minded to all kinds of different cultures. They're not gonna be small-minded like I was growing up.
SM: What do you want couples to know who wanna become parents?
LB: One thing I learned is there is no right time. There's no, oh, I gotta wait till this happens. No, you can handle whatever the universe throws you. So if you want kids right now, you will figure it out and it'll be the best thing and the most rewarding thing you will ever do — because it's the first time that you aren't so selfish. But once you have those kids, it is no longer about you, and it is a really great feeling. Everyone needs to know what that feeling feels like.
SM: What do you think the biggest challenge has been for you as a parent?
LB: There's so many challenges! One, especially at the beginning, was that sleep deprivation was a huge thing. I didn't take the advice of, take the nap when they nap, try to get as much rest as you can. I was just so worried about them at all times. I just had to be up and around them. So I wish I could go back and tell myself sleep a little more those first few months — because it all felt like a dream. Everything was just always foggy and I felt like I was dreaming the first six months of their lives.
SM: You're working on a ton of kid-friendly projects right now. Can you tell me a little bit about what you're working on and why you've chosen those projects?
LB: It's so fun to be inspired by your own kids — and they really did inspire me. I've written my first children's book, which comes out next year. And of course it has to deal with my favorite holiday: Halloween. And I'm also working on a lot of children's cartoons that I'm developing right now.
I got to be in the New "Baby Shark" movie that comes out this Christmas, which is, you know, they have not heard Baby Shark yet, but now I guess we're gonna have to be a Baby Shark family.
I just released my first kid song a week ago called Perfect This Way for a cartoon called Station Little, and I'll be doing more kid songs with them in the near future, which I'm excited to be a part of. It's just one of those shows that they have such amazing producers and writers. They write kid songs that are enjoyable to actually listen to as an adult, but it's just geared towards kids and messaging towards kids.
This interview has been edited for clarity and length.