We're Using Leftover Jam To Make Cocktails Now. You're Welcome.
TikTok strikes again! This time with a genius home happy hour idea.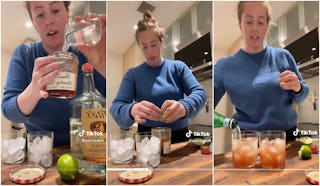 Audrey Akin/TikTok
Remember the OG Phil Vassar country love song describing "just another day in paradise"? If ever there was a realistic portrayal of some days being a parent, this is it: "Kids screaming, phone ringing, dog barking at the mailman bringing that stack of bills — overdue." Yep, that tracks. But when you take a drink of milk and the milk's gone sour, you can throw your hands up in the air and go back to bed (totally warranted), or you can make yourself a good AF fancy-ish cocktail and daydream about burning everything to the ground. If you're a mom who drinks and that cocktail sounds like the only solution at the end of a long day, this TikTok drink hack is just for you. And, bonus, it uses up that last bit of leftover jam or jelly in the jar.
It's up to you if you want to start throwing out terms like "genius" or "mom's greatest gift to dinnertime." Still, you probably will when you watch TikToker Audrey Akin make a professional-level cocktail using — that's right — the jam from the bottom of the jar. Because honestly, doesn't it sound much more sensory-pleasing to add liquor to the jar than to get all sticky shoving your hand inside to scrape out every last drop of preserved goodness?
"Let's use up the end of the jam jar and make a cocktail," Akin starts. "It's very easy, very delicious, and a good way to use up the bottom of your jam jar."
The Recipe (Makes 2 Cocktails)
2 (ish) tablespoons of jam
4 ounces of tequila
1/2 lime, juiced
Ice to fill the glass
Sparkling water to top off the glass
There are a few tablespoons of jam (in this case: strawberry) caked to the bottom of Akin's Bonne Maman jar. She adds a couple of tablespoons of water and nukes the mixture for 10-15 seconds to loosen up the jam. For two cocktails, she adds four shots of vodka directly to the jam jar, then squeezes in the juice from one half of a lime. Next, she puts the lid back on top and gives it a good shake to mix together the main ingredients, jiggling until all the jam is pulled from the sides and bottom of the jar. She pours the mixture over two glasses of ice, topping it with sparkling water.
If you drink even sporadically and cook regularly, you probably already have everything you need in your kitchen. While not everyone has sparkling water in stock in their fridge or pantry, it's easy to come by and easy to replace. It'll be much sweeter, but there's really nothing stopping you from using Sprite. You could also simply choose to skip that step altogether for a smaller, stronger drink.
Other Possible Jam-Jar Cocktail Combos
Akin uses strawberry jam and half a lime but suggests you could use any jam and a lemon in place of the lime. If you look at Bonne Maman's other jam and preserve flavors, it leads to some pretty tasty-sounding possibilities:
Strawberry + lemon
Cherry + a lime
Raspberry + an orange
Pineapple-passionfruit + an orange
Raspberry + a lemon
Blackberry + a lemon
While any of these combos would likely be delicious with vodka (Akin opts for Tito's, like Beth from Yellowstone), don't give up if you're not a potato-liquor person.
Rum goes with pretty much everything, and as Akin suggests, gin is also a good replacement. If you really want to experiment with your libations, you could try tequila, lime, and whatever jam you have on hand, which is giving bootleg margarita. Salting the rim is optional... but you've come this far, so why not?